Top 100 Tutorials of 2009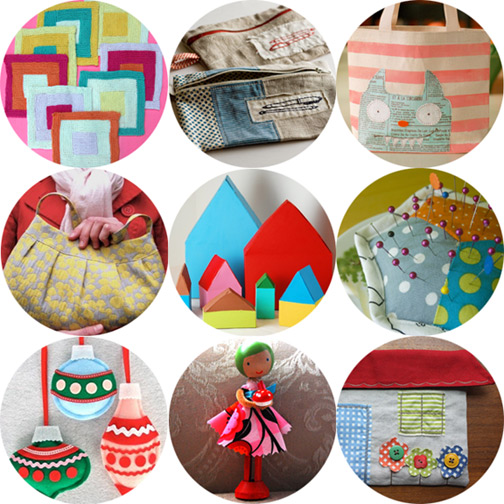 It was a good year in the online crafting world. Here's a list of 100 craft and sewing tutorials of 2009, not ranked in a particular order. I made a similar list last year that continues to be popular. This year I decided to include my own tutorials! Feel free to comment and link to your favorites, as I'm sure that I've left many off the list. It's amazing how much creativity is out there. So go make something in 2010. Happy New Year! Those marked with an asterisk are pictured above.
BAGS, POUCHES & PURSES
Buttercup Bag from Made by Rae.*
Phoebe Bag from Artsy Crafty Babe.
Diana Hobo from Think Liz.
Ruffled Messenger Bag from Between the Lines.
Basic Messenger Bag from Mmmcrafts.
Lunch Bag from Amy Karol for Etsy's How-Tuesday.
Kate's Notebook Lunchbag from Design Sponge.
Reusable Snack Bag from We Wilsons.
Apple Backpack from Alpha Mom.
Shoe Bag from Betz White.
The Everything Pocket Bag from Chickpea Sewing Studio.
Earth Day Spa Set from Stardust Shoes for Michael Miller Fabrics.
Little House Pouch from The Long Thread.*
Boat Tote from The Long Thread.
Water Bottle Tote from The Long Thread.
CLOTHING & ACCESSORIES
---
---