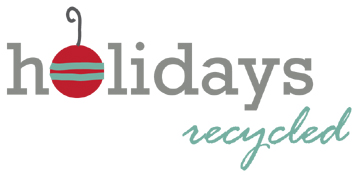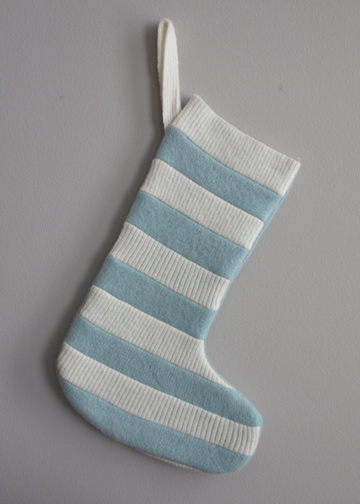 Well, maybe I can make all of our holiday decorations from two thrifted sweaters.  Here's a quick tutorial for a felted sweater stocking.  I never can seem to find any good striped sweaters at the thrift store, so I thought I'd make my own.  I have a sneaking suspicion that Betz White has visited every thrift store in the land and is hoarding all the cool sweaters in her closet.
This makes a 12″ long stocking, but you could increase or decrease the pattern to suit your needs.  Print the template here.
First, you'll need 100% wool sweaters, washed and dried.
I cut my sweaters into 1 1/2″ strips (the width of my yard stick).  I used about 15 strips in all.  I sewed them with a straight stitch right sides together until I had a somewhat rectangular striped piece.
I then cut the pattern front from this piece, adding 1/2″ around the outside for the seam allowance.  I cut the back from a solid color (with a band at the top).  Be sure to cut the front and back in mirror image.  I then inserted a quick loop and sewed it all together.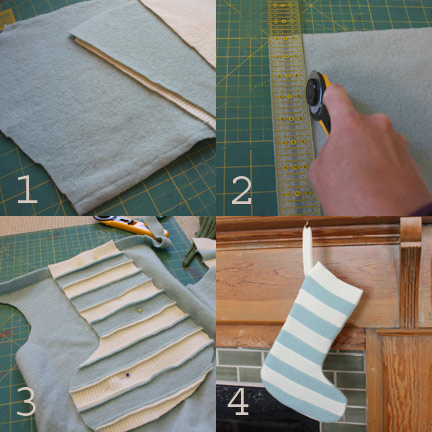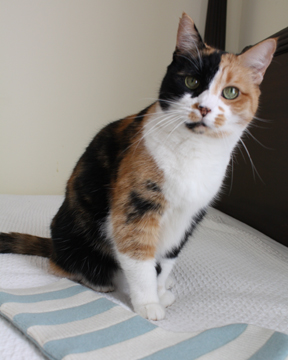 This wouldn't be a sewing blog without a picture of a cat, would it?  Here's the the best cat in the world with her new stocking.  Seriously, this cat comes when you call her and she would meow at my door when the girls were babies and cried at night.  She was the only family member who didn't have a stocking yet.  I will not be making one for the fish.