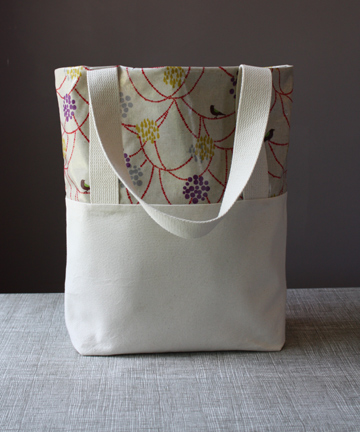 Today's project is a tote bag that I've been meaning to make all summer.  I really wanted a bag that could hold wet bathing suits and all of our pool gear.  This one is made with Echino polyurethane coated cotton and plain canvas.  This bag is lined and includes a magnetic closure and detachable pouch option, which is nice for storing a small camera or wallet that you can take with you without bringing the whole bag.  The finished size is approximately 15″x11″ and 5″ deep.
If you are a beginning sewer, you might find working with this coated cotton to be somewhat difficult, so you could try a patterned canvas or twill fabric.  If you do try the coated cotton, I recommend setting your tension very low (loose) and using a long stitch length.  Since it is kind of rubbery, you have to pull it through your machine a bit.
You can download the tutorial here.  If you make a bag, I'd love to see it.  Be sure to add your photo to the Make it Monday Flickr pool here.