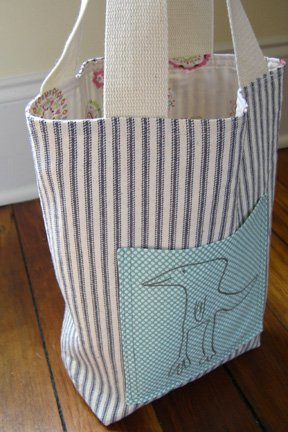 The weather has been lovely here, so I haven't been spending much time on the computer or the sewing machine.
But I finally updated last week's post with the instructions for making these tote bags with your child's artwork. We sold all of our bags, so I made one more today from these instructions.  I didn't explain how to transfer your child's work to fabric, but there are a number of ways you can do it — embroidery, iron-on transfers, printable fabric, fabric markers, etc.  The instructions are for a small, lined tote bag, but you could increase the dimensions and make a larger version.  I used heavy-weight twill tape for the straps, but you could make your own straps with contrasting fabric.
And the winner of the Custom Softie Giveaway was Sora, so look for another giveaway later this week!