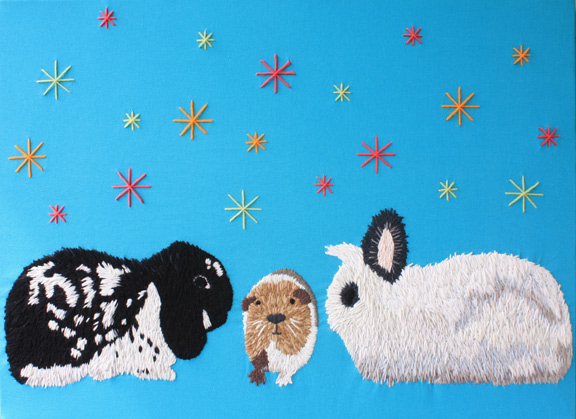 Happy first day of spring! Look, some bunnies are here to celebrate! I just finished up an auction project that I worked on with my daughter's fourth grade class. Initially we were thinking of making a large-scale cross-stitched canvas, but there are two bunnies and a guinea pig in this classroom and it just felt like we needed to capture their personality rather than making a stylized version of a bunny. So I bought some tapestry wool and we got stitching! I tried using some yarn I had on hand, but it frayed as it was pulled through, so I'd definitely recommend using tapestry wool which is especially designed for stitching.
Each of the kids had a turn with this project, but I did end up doing lots of stitching myself to get this done in time for the auction this weekend. One of the teachers helped and they were both so patient with me being in their classroom all last week, even though I still have trouble not talking in class!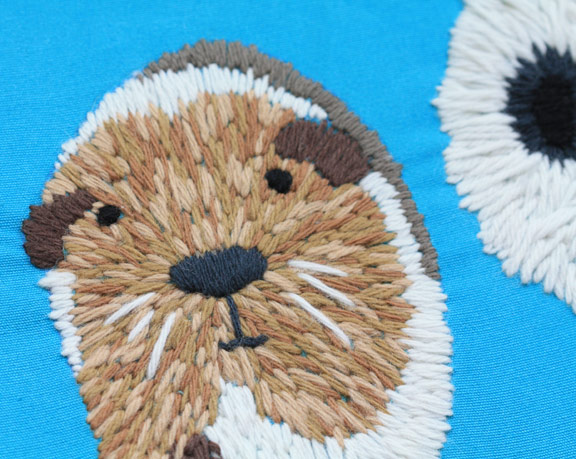 I started with the photo below that I edited in Photoshop because of course the animals wouldn't pose like this. Then I had the sudden realization that these sweet little bunnies don't look that much like bunnies at all! One is a big fluffball and the other has down-turned ears. And the guinea pig was tricky! We stitched on colored canvas fabric, then I added some colored asterisks stitched up top, then stretched it over a canvas, which also serves to hide the messy back side. I think it would have been interesting if we'd stitched some brightly colored patches into their fur, but another idea for another time!
This was a lot of work, but the kids have been so excited and I think it would look adorable hanging in a child's room. I really enjoyed taking the time to relax and stitch by hand, and now I want to make portraits of our own pets. I just have a quilt to finish up and I'm done with auction duties!