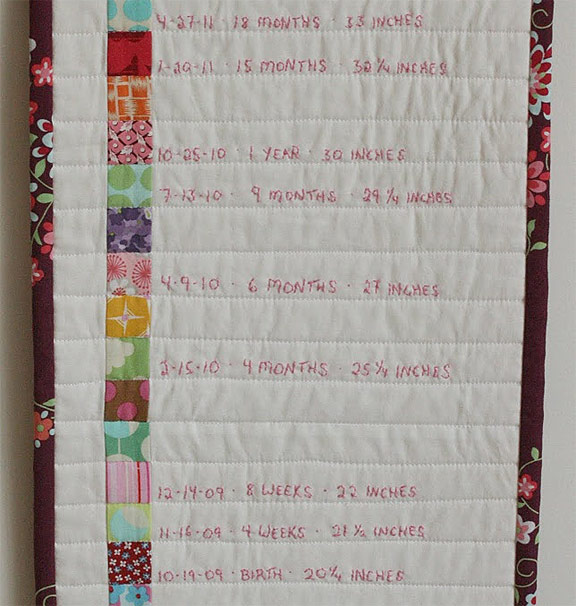 Today's guest post is from Emily of The Student/Teacher. I came across her blog when she commented on a post and I saw this wonderful felt and fabric memory game that she made for her kids. I asked her if she would do a guest post for The Long Thread, and happily, she agreed! Emily has made this lovely growth chart for her daughter that is sure to become a cherished family heirloom. I know you'll enjoy this project.
I love this photo of her daughter looking up at how tall she'll become. It makes me have an "Oh, how quickly they grow" moment. Thanks for sharing this special project, Emily!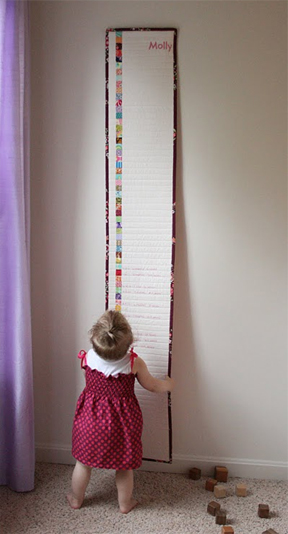 ____________________________
Hello! I'm Emily from The Student/Teacher. I am a writer, crafter, and unschooler living near Washington, D.C. with my husband and our two young daughters. My blog is a journal of love and learning, a place to celebrate childhood and creativity. I use it as a space to discuss alternative education and to share the exciting crafts, projects, and activities that fill our busy days. As far as crafting goes, I am mainly a sewist. Quilts are my current favorite thing to make, but I love sewing clothes, accessories, and home decor, too. (You can read more about me and my blog on my About page.)
I am thrilled to share my tutorial for an Embroidered Growth Chart here on The Long Thread. This project is simply a long, narrow wall quilt designed to be a stylized version of a traditional children's growth chart. Each patchwork square in the left-hand column of the quilt is one inch long, so these colorful bits serve as pretty stand-ins for numbers. Additionally, the horizontal rows of machine-stitched quilting that cascade down the quilt's length serve as built-in straightedges; as your child grows, you will embroider his or her ever-changing height measurements along these lines, effectively capturing special moments in time for your family. Click here for the full tutorial!