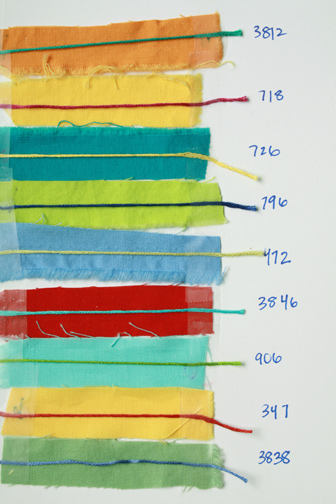 I guess I'm going to write about this school auction quilt for the next month, because it's pretty much what I'm doing with my time right now. I've also decided that I'm going to write more about process this year since I'll be quilting a lot and the finished product doesn't come so quickly.
I changed the color order, made it into a square (below) and wanted to also show you the actual fabrics and embroidery floss colors (above). The fabrics are Kona cotton solids (donated by Whipstitch). I got started on it today with the kindergarten class and it was fun to watch the kids. Several kids had never seen a needle and thread before, so it was amazing to see some enjoy themselves and get excited about it. Others weren't as interested, but I think it's always good to introduce kids to new things. You never know who will be the next Valentino.
There's my daughter working on it below. This project is going to be sooooo slow, but I think that's a good thing.