Flower Path Quilt Sew-Along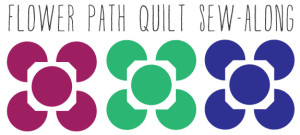 Head over to Sew, Mama, Sew to learn how to make my Flower Path Quilt! Comment for a chance to win a copy of 1, 2, 3 Quilt!
Have you ever wanted to sew circles, but were afraid to try? Now's your chance. Sewing around curves isn't as difficult as it looks. Slow and steady is the best way to start. You can see below that I've started the quilt with four 12″ blocks here, but the finished quilt will have nine of these sections for a completed size of 72″ square. This week, I'll show you how I make quarter-circles, then next week we'll complete the block and sew it all together.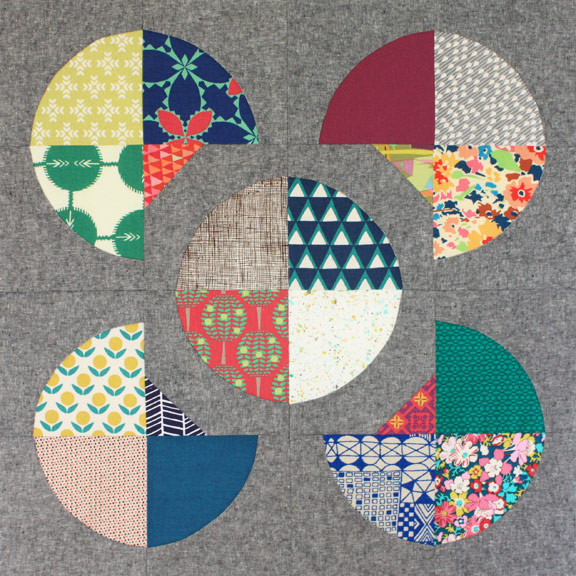 In 1, 2, 3 Quilt, I have a chapter about sewing with circles, but there wasn't room to include a Drunkard's Path pattern, so for this quilt I wanted to do a variation on the traditional block. Below you can see the Quarter-Circle Coasters, Clamshell Pillow Sham, and Cluster Dots Quilt that are included in the book. If you sew them in order, you'll gradually shape up your skills. And really, once you've made clamshells, you'll be a master at curves! Then I used a freezer paper method to get accurate circles on the appliqué quilt for the third project.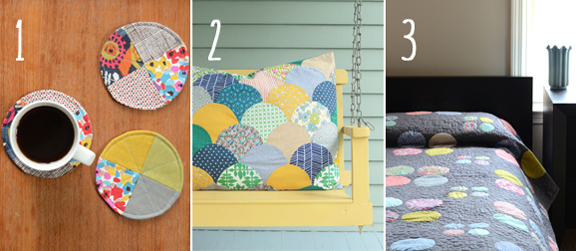 The traditional Drunkard's Path block has a fascinating history. I created a Pinterest board with some modern and traditional examples. I'm always amazed at the infinite number of ways a quilt can be made. From color and fabric decisions to layout and design, there are many choices in the process that can change the end result.
My method for sewing quarter-circles requires lots of pins because I find it gives me greater accuracy, but there are other methods that use glue or no pins. Plus, you can check out this method for making the entire circle, then slicing it into quarters. And this method uses a special presser foot. I always say that there are as many methods as there are quilters and the only right way is the one that works best for you.
For the Flower Path quilt, I am using a solid background with both solid and patterned fabrics for the circles and triangles. I've used all three of my Kokka fabric collections here, plus other favorites. You can see some peeks of my upcoming Garden collection, which will be available at Fall Market from Seven Islands. Over on the Sew, Mama, Sew site you can also see a digital two-color version of this quilt, which I'd love to try.
Hope you'll join me on this sew-along!
---
---