FRAMEWORK: Spring 2014
My newest collection for Kokka, Framework, will be shipping to stores Summer 2014. This collection features three cotton/linen blend prints and three prints in double gauze cotton. For wholesale information in the U.S., please contact Seven Islands Fabric. In Europe, Kokka fabrics are available through Nunoya.

Photos of each print in the collection below. Feel free to use these for your online fabric shop or blog. Please e-mail me for high-resolution images suitable for print publication. Contact Seven Islands Fabric for wholesale inquiries.
Steps in charcoal, chartreuse, and royal blue (cotton/linen blend).
Corners in blue, coral, and chartreuse (cotton/linen blend).
Daisy Chain in royal blue, gray, and teal (cotton/linen blend).
Sitting Geese in chartreuse, aqua and gray (double gauze cotton).
Quarter Circles in coral, chartreuse, and blue (double gauze cotton).
Broken Plaid in teal, charcoal, and chartreuse (double gauze cotton).
GARDEN: Fall 2013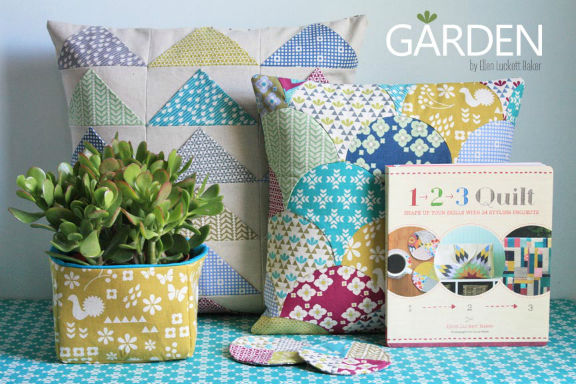 My Garden collection for Kokka is in stores now! Images of each print below. All are printed on cotton/linen blend lightweight canvas fabric.
Triangle Flowers in olive green, gray, and blue.
Hydrangea in plum, blue, and olive green.
Crossed Leaves in gray, chartreuse, and turquoise.
Butterflies in cornflower, plum, and gray.
Cheater Print in pastels, gray, and jewel.
Dutch Garden in mustard, turquoise and charcoal.
FOLK MODERN: Spring 2013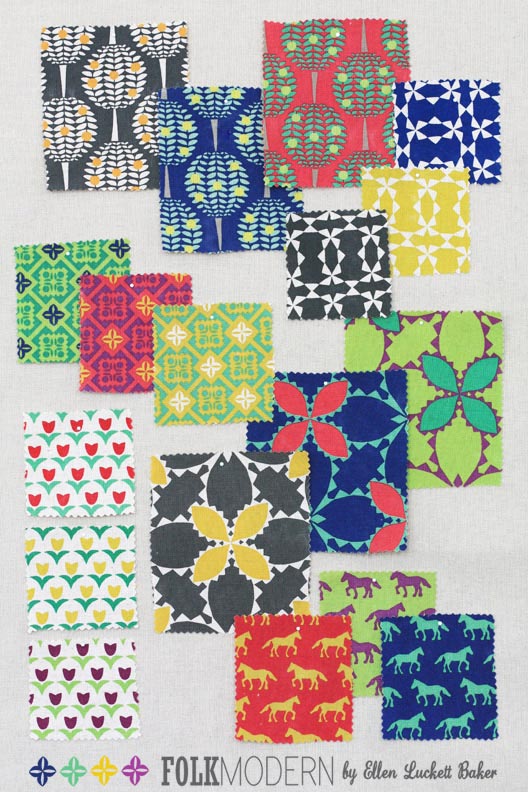 Sawtooth Flowers in Bright Green, Charcoal, and Blue.
Citrus Trees in Charcoal, Azalea, and Blue.
Medallions in Yellow, Azalea, and Bright Green.
Rings in Blue, Yellow, and Charcoal.
Horses in Bright Green, Azalea, and Blue.
Tulips in Azalea, Yellow, and Purple.
STAMPED: Fall 2012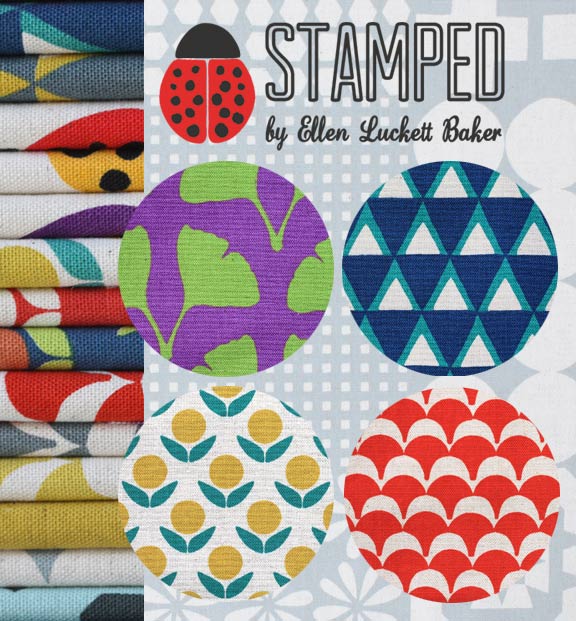 Circle Flowers in yellow, red and navy.
Triangles in blue, gray and red.
Ginkgo Leaves in purple, gray and blue.
Scallops in red, gray and yellow.
Ladybugs in yellow, purple and red.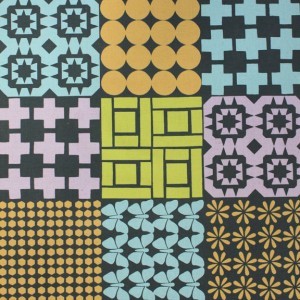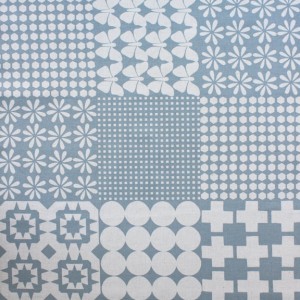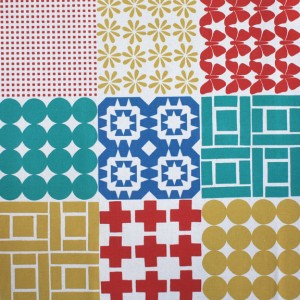 Cheater Print in charcoal/pastel, gray/white and multi-color. Note that the scale on this print is large, with each patterned square measuring around 6″.