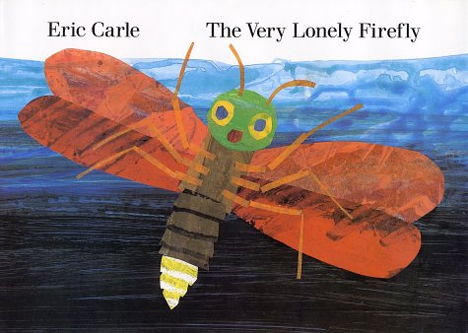 I know, it seems like I've forgotten about the summer reading crafts, but here's a project!
Eric Carle naturally comes to mind when thinking about children's book illustration, so we decided to make these firefly lanterns based on The Very Lonely Firefly, the story of a firefly in search of friends.  You can learn more about Eric Carle's process here.  I modified the process to make it simpler for the kids.  This is a two-step project because your tissue paper will need time to dry before you make the collage.  And you'll want to work on a surface that is easy to clean.  Here's how we made our firefly lanterns: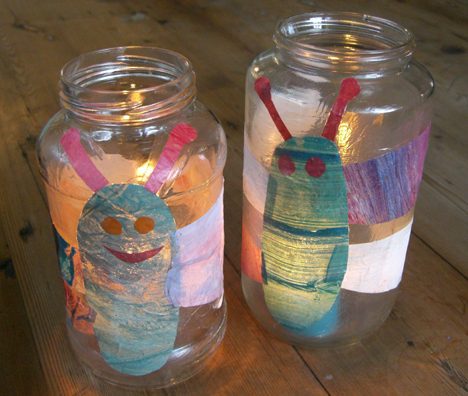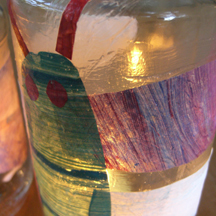 Supplies:
recycled glass jar
plain tissue paper
paints (we used kid's poster paints)
brushes
decoupage glue (mod podge)
1.  First, cut the tissue paper into small squares to make it easier to handle.  Then have kids paint the tissue paper.  To achieve the multi-layered effect of Carle's work, I encouraged my kids to use several colors on their brush.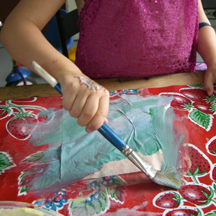 2.  When the kids finish a square, an adult can gently peel the paper from the surface since it tears easily.
3.  Set aside and allow the tissue paper to dry.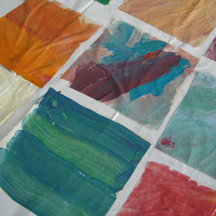 4.  Once the tissue paper is dry, cut it into shapes to make a firefly or anything else you can imagine.
5.  Coat the front of the glass jar with mod podge and apply the tissue paper shapes.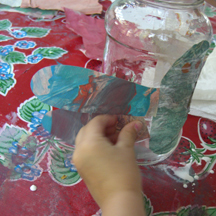 6.  Add another coat of glue on top to seal it.
7.  Light a candle and watch your fireflies glow.  Careful: hot glass!