Fourth of July Cupcake Toppers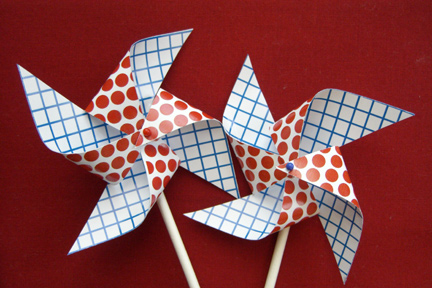 Here are some quick and easy printable pinwheel cupcake toppers to celebrate the Fourth of July.  They really spin!  These are made with straight pins, but if you are having a party with small children I'd advise you to glue them down or use small paper clips (similar to these).  The design is 3″ x 3″, so perfect for cupcake toppers or for party favors.
Supplies:
white card stock
small straight pins with glass heads
hammer
lollipop sticks
glue (optional)
Click on images below for templates:
1.  Using card stock, print the blue grid on one side then flip the page over and print the red dots.
2.  Cut a small slit at a 45 degree angle at each corner like this: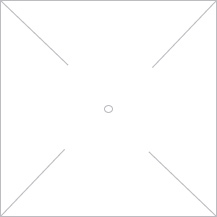 3.  Carefully poke a hole in the top of the lollipop stick with a straight pin.
4.  Fold down every other corner of your pinwheel and hold it in place in the center.
5.  Poke a straight pin through the center, being sure to catch all the corners.
6.  Gently tap with the hammer until it is secure, but the pin isn't going all the way through the lollipop stick.
7.  Glue in place, if you'd like.
If you make these, we'd love to see your photos in the Make it Monday Flickr group here.
---
---