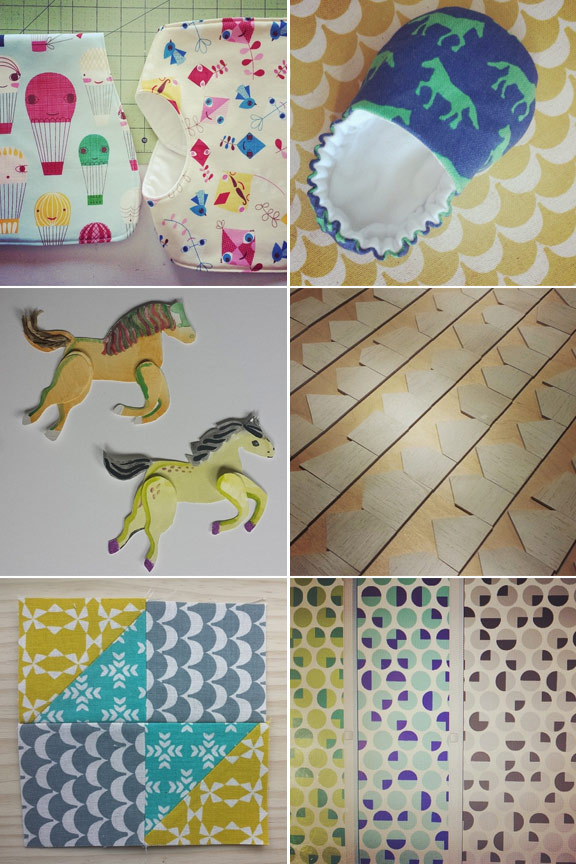 At the beginning of the year I decided to make some changes to my blog. I am no longer accepting advertisements because posting regularly has become more of a burden and things seem to have changed. Blogging doesn't feel like it did when I first began in 2007. Back then I felt like I was talking to friends, sharing ideas and inspiration in a community. These days it feels like that community has devolved to quick Instagram glimpses, character-limited tweets, and solipsistic Facebook posts. Don't get me wrong; I often enjoy the brief communication and instant feedback, but there's definitely something missing. Maybe I need to actually leave my house to find community.
Anyway, I'll be posting less frequently, but I am still making things. I just submitted another fabric collection for Kokka, which will be shown at Spring Quilt Market. And I'm excited to be trying some new substrates in this collection! I'm working on a new book idea, but feeling overwhelmed by the process. So I've been trying to use time effectively and to find that tricky balance between work and family life. Not easy.
Above are some Instagram photos to show what I've been doing lately. Making baby things! Working on auction projects. This year, we decided to skip the school quilt and make a piece of art, so I cut 380-something tiny balsa wood houses and the art teacher is working with the kids to paint and collage them. And I'm working with my older daughter's fifth grade class on this paper stampede project. You can see her horse samples above. I found the tutorial and templates from Ann Wood over on Design Sponge. And in the bottom left photo, you can see that I made a block using a design from each of my Kokka collections. This is a work in progress for an upcoming block tutorial. And on the bottom right is a sneak peek of a design from my next collection!
Oh, and I'm also hauling kids around town, mediating their constant bickering, and making mediocre dinners. But I don't have photos of that.