Today 1, 2, 3 Sew is making the final blog tour stops over at True Up and Bolt Neighborhood.

If you love fabric as I do, then you are no doubt familiar with Kim Kight's blog, True Up. Today she asked about my Fabric Fives, so you can see the fabrics I love and those I use often. Kim also talks a bit about my next project — a fabric collection!
In addition to giving birth to an adorable baby boy this week (Congratulations!), Kim has just finished a book called A Field Guide to Fabric Design that will be out this fall. Looks like a great book for aspiring fabric designers as well as those who just want to make their own unique creations.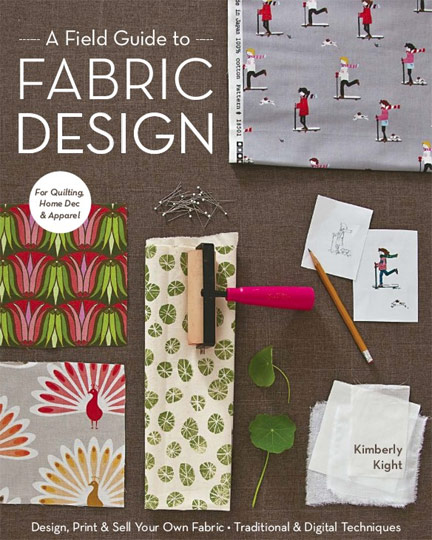 And Bolt Neighborhood is also part of the blog tour today with a pattern review and book giveaway! Bolt is a great fabric store in Portland that I so hope to visit someday. Melissa has whipped up the Tiered Bag project from the book using a beautiful silk fabric. Go check it out!
Thanks to all of the wonderful sites who have hosted the blog tour over the past two weeks! If you missed a stop on the tour, be sure to check out the full list below.
Eyelet Headband Tutorial on CRAFT
Lunch Sack Pattern and Book Giveaway on Sew, Mama, Sew
Review and Giveaway on Oh My! Handmade Goodness
10 Things that Inspire Me, posted by Rachel Faucett for Babble
Book Review and Giveaway on Everything Etsy
Book Review on Not Martha
Pattern Review on Modern Kiddo
Stamped Tea Towel Tutorial on Indie Fixx
Book Review and Giveaway on Patterns by Figgy's
Podcast Interview about publishing a craft book on Papernstitch
Book Review and Giveaway on House on Hill Road
Book Review and Giveaway on Coquette
Pattern Review and Giveaway on Bolt Neighborhood
Fabric Fives on True Up