Navigating Obstacles
Right now I've come to a crossroads in my career path. Actually, more like a brick wall. As I've been thinking and writing about creative experimentation recently, I've decided to view my work with the same mindset. We seem to push toward one goal, but I think the next generation will have the benefit of realizing that you don't need to be just one thing. Change your career. Change your methods. Change your direction. With this idea of experimentation in mind, I'm going to push forward on several fronts and see what works. Experimentation leads to invention — and reinvention.
The fabric market is changing. Brick and mortar shops continue to close, while many wholesale manufacturers push forward with the same collection-driven fabric cycles. If independent shops begin to focus on experience and fabric companies focus on quality, I think the industry will move forward, with both sides listening and responding to the changing needs of the consumer. This year I won't have a fall collection with Kokka, but look for something in the spring.
These days I've been experimenting with painting, thinking of translating this to quilts or fabric designs at some point. But maybe it's just experimentation right now.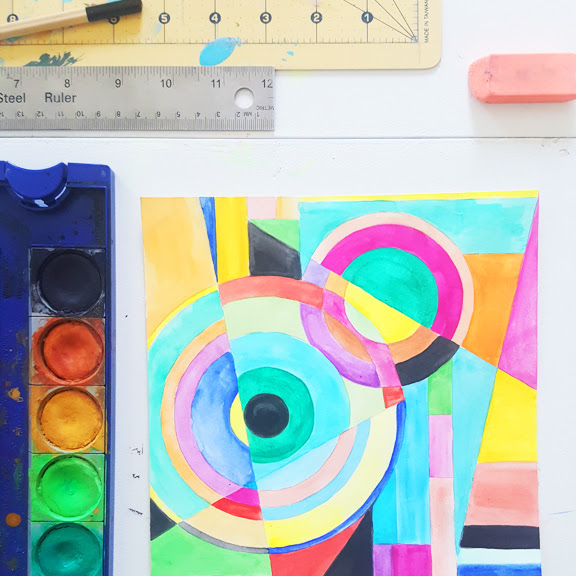 Painted Coasters Tutorial
Find the quick tutorial for the painted coasters here. These were made from my fabric experiments with painted fabric — one with brushes and the other with foam stamps. I started without an intentional goal, but instead focused on experimentation and process. Only after I had a nice pile of fabric experiments did I decide what to make.
Parallels Collection + QuiltCon
Parallels fabric is hitting stores now! See the double gauze fabrics from the collection on Kokka's blog. This collection is my first time to try brushed cotton fabric! There are two designs in this new flannel, two in cotton/linen, and two in double gauze cotton. See the full collection and colorways here.
I'm giving a talk at QuiltCon East in Savannah this February. My talk will be about exploring creativity through experimentation. It's early — Thursday morning at 10:30 am, so I hope you'll be there!
Links
18 Female Artists Give Advice to Women Starting Out in the Art World from Artnet News: I especially liked Adrian Piper's advice not to quit your day job.
Invisibilia podcast on NPR: Flip the Script from July 15: Important thoughts about how we react to hate in the world.
How do you make sure you aren't buying from companies that have stolen artists' work?: A flagrant case of intellectual property theft.
Don't boo. Vote. by Shannon Downey of Badass Cross Stitch: I don't know about you, but I've become increasingly saddened by the current state of politics and the hateful rhetoric surrounding this election. Let your voice (and stitches) be heard through craftivism. Cross stitch against gun violence here. Make quilts to honor the victims of the Pulse Night Club shooting with the Orlando MQG (blocks due August 15). Read an interview with Krista Barmer on craftivism.
Challenges of Getting a Product Made in the USA from The NY Times.