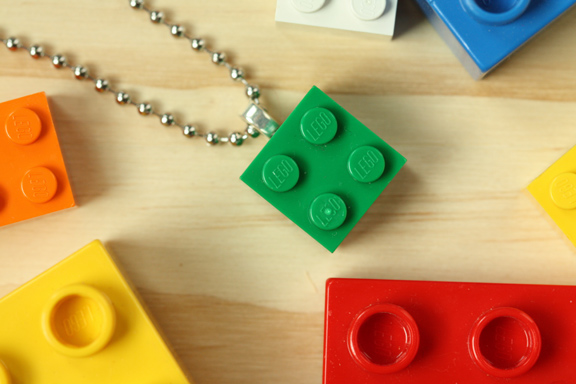 Last week my daughter's kindergarten class had a fundraiser at school that they call "Kindercollectibles" where they sell baked goods and small toys to kids throughout the school. This year they raised money for a local organization that helps the homeless. So it was a good lesson in charity, math and economics. The big hit of the sale were these brilliant lego necklaces that one of the mothers made. Holly has agreed to share her process with you, so here she is:
_______________________________
Last summer when my daughter and I were in Cambridge, Maryland, we went to this cute shop,
Sunny Side Shop
, and found these cute Lego necklaces. We got pink ones. I was wearing it one day at drop off and the kindergarten boys all ran up to me and went crazy over this pink lego necklace.  The teacher asked me if I would be willing to make some by the end of the year to sell at the school's kindercollectibles market.
I started looking into it and found out that I could make these for about $3.00 a piece.  Then, when the teacher asked me to make a couple hundred, I got busy and tried to find a cheaper way.  I got them down to $1.91 a piece.  I had paid somewhere between $8 – $12 for mine last summer.

My materials:
Quick drying epoxy from Fire Mountain Gems.
Bails from Fire Mountain Gems.
Ball chain from Ace Hardware ($.48 a foot, but $.39 a foot if you buy the whole 100 feet roll of it)
Clasps for ball chain from Ace Hardware ($.13)
Legos from Bricklink
Where I really started shaving off the cost of my materials is when I found Bricklink. You can go on there and find legos that are less than $.01 (a penny!!!). So we just stayed with the basic 2×2 lego brick in cool colors for this school project. To be really creative, you could build colors together, use different shapes.
This was a project we were supposed to do together. My daughter could help with some, but not all of the assembly. I did not want her dealing with the epoxy, so I did that myself. I also cut the ball chain in 16″ links, and I had to affix the fastener (she tried, but could not). My daughter did thread the lego onto the chain. She was so proud when we took the necklaces in to school.
Things I considered when getting my materials together:
1. You have to get a bail that has an opening big enough for the ball chain and one where the flat part has enough surface area to hold the glue and affix to the lego itself. I think the best is one big enough to also reach the middle of the back of the lego so you have that surface area contact.
2. I found these cute paw bails that were cuter for kids than the fancier, more expensive classic looking bail.
3.  I thought Home Depot would have the ball chain and fasteners cheaper, but they did not even carry them in bulk like Ace did.  I bet you can even find that stuff cheaper somewhere.
_______________________________
Thanks, Holly! What a great idea. I think these would be a wonderful party favor or birthday gift for kids (and adults) of all ages. If you aren't feeling up to making these, there are quite a few sellers on
Etsy
who sell some version of a Lego necklace.