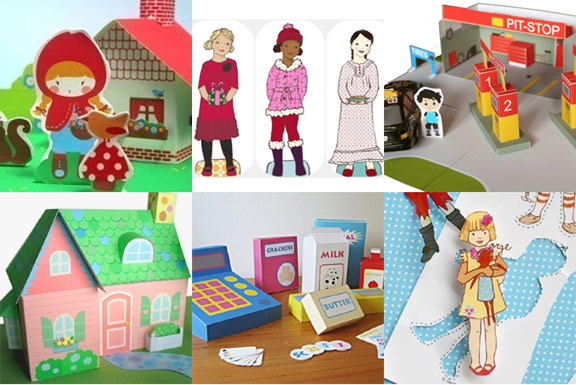 Looking for last-minute presents for the little ones? Or just something to keep them entertained during these long, cold days? Here are some printable toys that would make great gifts — and even better, you don't have to leave home.
Little Red Riding Hood and House, $5 from Maria Lunate.
Mini Me Paper Dolls Winter Collection, $6 from Lily & Thistle.
Paper Gas Station from Paper Doll by Dignav, $4.
Pink Cottage Dollhouse, $10 from Fantastic Toys.
Play Shop, $7 from Neskita.
Paper Doll Set, $10 from Sarah Jane Studios.
For free printable toys, check out these websites: Fantastic Toys freebies, Canon's Creative Park, The Toymaker, Robert Sabuda's instructions for pop-up cards, and HP's Creative Studio.
See more printable toys and crafts  from my earlier posts here and here.