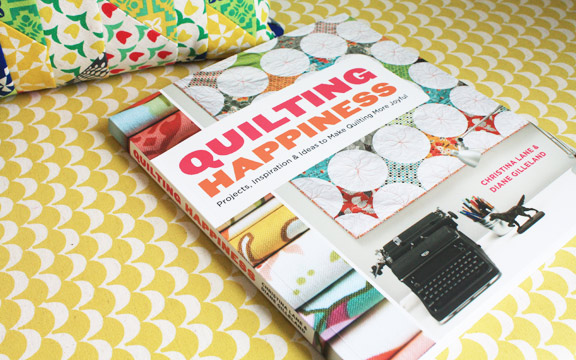 Diane Gilleland sent me a copy of her new book Quilting Happiness: Projects, Inspiration & Ideas to Make Quilting More Joyful, which she co-wrote with Christina Lane. The book is available now for pre-order and will be shipping next week.
A book that makes you happy? Yes! This book includes projects interspersed with creative exercises to help you explore your process, define your style, and reflect on meaning and inspiration. There are lovely projects for beginning to advanced quilters, combined with clear instructions and helpful diagrams. This book is useful both for quilters who want to explore their creativity as well as those who just want to make things.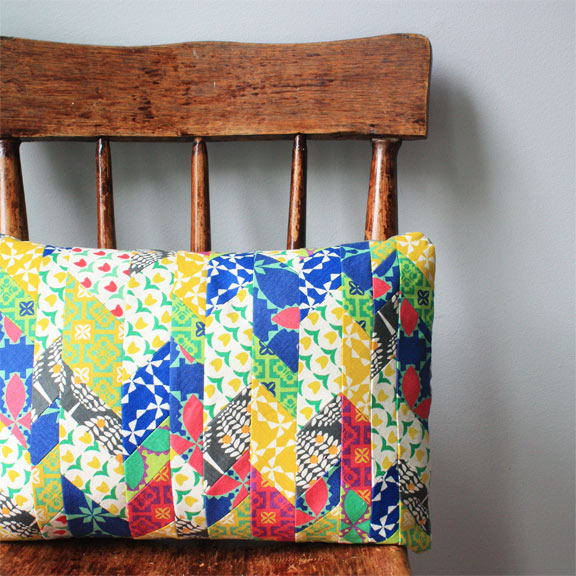 I made the Haphazard Chevron Pillow from the book using my Folk Modern fabric collection, but I altered the size because I only had a 12″ x 16″ pillow form on hand. And I skipped the top quilting because there seems to be enough pattern here already. The instructions were well-written and easy to follow.
Overall, I really love the idea behind this book. I think many quilters are afraid of their own creativity, but making things is a creative process; from choosing the pattern and style to selecting fabric. Some of us love to cut and measure precisely while carefully following each step of a pattern , while others of us just like to cut and create as we sew. There's a quiz in this book to help you get in touch with your "Inner Quilter", which I think will help you realize that we all have our own unique style and approach to creativity. There is no right way!
To see projects from the book and the book trailer, visit the Quilting Happiness website.