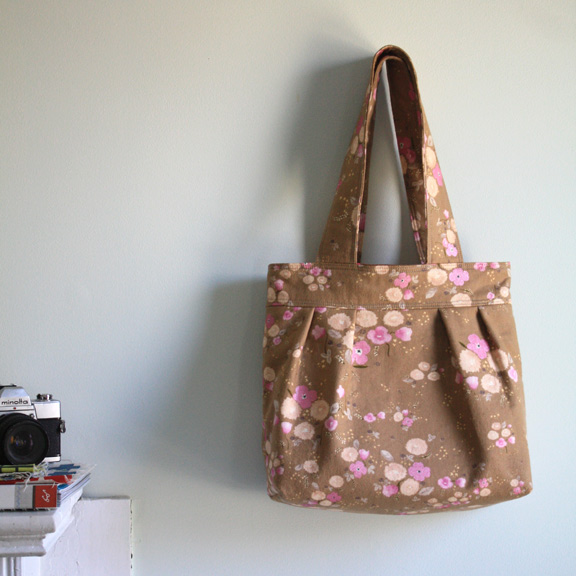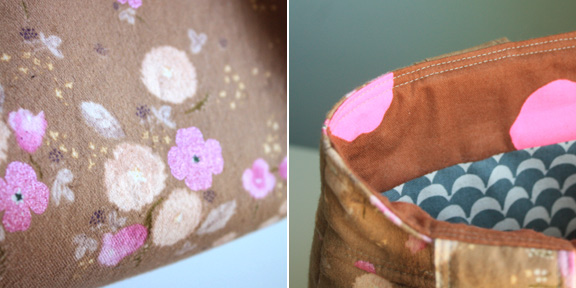 I'm tying up loose ends this morning. I made this bag over the weekend, using the new Nani Iro brushed twill from Miss Matatabi. Soft and beautiful fabric! This fabric has a bit of shimmer to it on the pink flowers and the band lining brown fabric has super bright neon polka dots, which my camera refused to adequately capture here. I also used my scalloped gray fabric for the interior lining. I'm making some scarves and cowls with this fabric for the Indie Craft Experience, and may make a couple of these bags with a reversible option.
I talked to the Atlanta Modern Quilt Guild over the weekend and was excited to see so many quilting enthusiasts all together! I'm planning to head to QuiltCon in February and am really looking forward to it.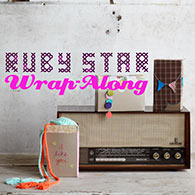 And this Wednesday begins a fun Wrap-Along for the new book, Ruby Star Wrapping by Melody Miller and Allison Tannery, organized by Amy (Sukie) of Sukie Don't Ya Know. So, grab a copy of the book, make some things and link to your projects! There will be weekly prizes and different bloggers posting every few days. See the full schedule here. I'll be making a project later in the month.
Also, wanted to let you know that I have uploaded images of my Stamped collection for you to use for your online shop or on your blog. Feel free to pull images and share the fabric!