Quick Crafty Round-Up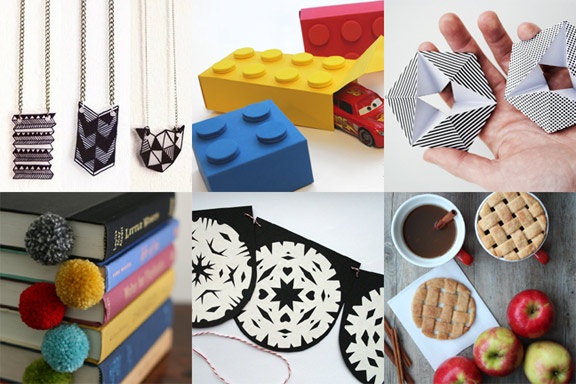 Just a few craft links, plus some other random links for you today. Pictured above:
46 Ideas for DIY Jewelry You'll Actually Want to Wear from Buzzfeed.
Lego Gift Boxes from Lines Across.
Kaleidocycle Folding Paper Toy from Mini Eco.
PomPom Bookmarks from Design Mom.
Snowflake Scallop Bunting from Bugs and Fishes.
Lattice Pie Mug Toppers from A Subtle Revelry (via Craft).
For those of you parents feeling like you are juggling too many things, read this article, laugh, and feel better about letting your kids play instead of teaching them Mandarin.
Quilt Market Wrap-Ups: Kathy Mack of Pink Chalk Fabrics has a nice trend report from market. I always feel like she has a good perspective on what's happening in the industry. And of course, follow along with Kim and her gang of reporters over on True Up for tons of posts with photos. And check out this inspiring video made by Creative Bug. I particularly like what Kaffe Fassett says about beautiful fabrics having restorative powers. You can also see a peek of the Kokka booth with my Stamped fabric collection over at Made by Rae. All of my samples are traveling to Europe and unfortunately I didn't get any photos before Market, but I'm making loads of stuff with this fabric and will show you more soon!
---
---