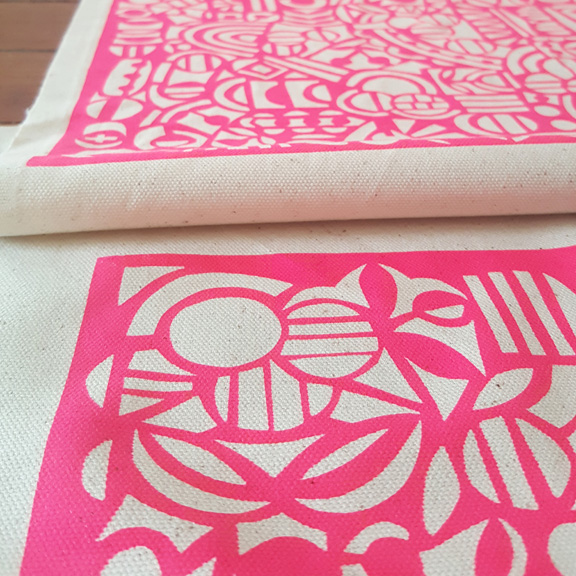 More fabric experiments! Over the past few days, as my husband has worked to fix this blog that I broke with a new WordPress theme, I've been screenprinting with screens made from papercuts. 
I first tried copper on quilting cotton and neon pink on canvas, then I plan to try some white on white tomorrow. I'm still not sure where these experiments will end up, but I'm planning to add some things to my Etsy shop soon. Would you be interested in these screenprinted, unfinished pieces (12″ x 18″) or would you prefer finished bags and pouches made from the fabrics? Maybe kits? Maybe all three options?
Then yesterday we finally had a sunny day, so I went outside with photo-sensitive fabric and used the papercut stencil to create these sun prints. Very simple process — you just layer the fabric and stencil with a piece of glass on top and leave it for about five minutes, then rinse to stop the process. I like how the mottled colors add depth, and plan to try Inkodye to make more of these in larger pieces.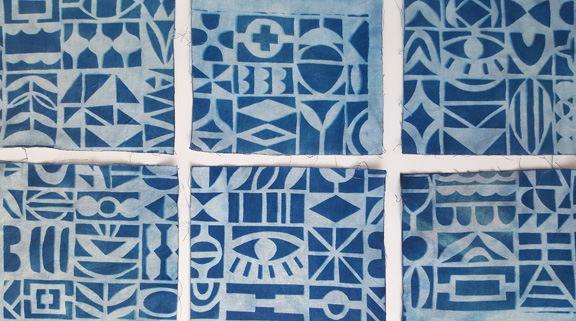 I use Amazon affiliate links in many of my posts. This means that when you click the link and make a purchase, I receive a nominal commission, which helps me buy more art supplies. As an independent artist, I rely on this support. Thank you!