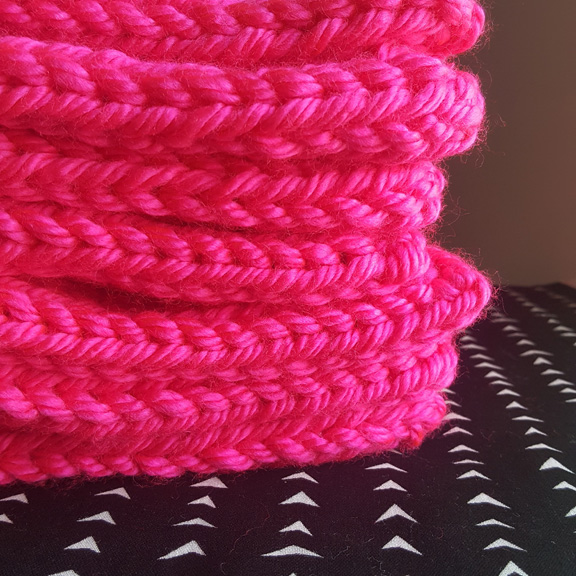 After almost one year since the Women's March in DC,  I'm reflecting on my experience with mixed emotions about this hat that once symbolized our empowerment.
Almost one year ago, my friend Joanna and I woke up in the dark, layered our clothing, packed snacks and cell chargers, donned our pink hats and got into our tiny orange rental car to drive from Charlottesville to the nearest metro station to attend the Women's March in D.C. The sun was rising as we saw a multitude of pink pussyhats waiting in long lines, gathering at the platform, and squeezing onto trains. I didn't know what to expect and felt nervous that despite the fact that I had knit 50 hats myself, we might be the only ones wearing these strange symbols. But there it was — the crowd was dense, purposeful, and pink.
We were there to reject this man who'd openly bragged of sexual assault. We had seen the video that forced unwelcome conversations with our children, who didn't yet know the vulgarity of the world. Just a few months before, we witnessed this man physically intimidate the candidate we respected during a debate. He triggered our repressed memories with his brazen misogyny, but we weren't just angry because of our own experiences, we were angry because we didn't want our daughters to live in this world, a world that accepts this man.
After the march, I absorbed the criticism of the moment, and have tried to better understand the intersectionality of the movement. I'm trying to be a stronger advocate, to acknowledge my privilege and my power. As I watch racism and xenophobia grow each time this man speaks, I'm even angrier than I was one year ago. I'm angry at the complicity of those surrounding him, those who think only of self-preservation. I'm angry that each day brings a new absurdity, diminishing our sense of decency. I'm angry that our outrage has turned to complacency. Standing in the streets of D.C. last year was a beautiful moment, a collective cry for our rights, but now it feels like we're just screaming into the wind.
_____________________
If you are considering leaving a comment that I shouldn't express my opinions here, please read this conversation between James Baldwin and Chinua Achebe.
"Those who tell you 'Do not put too much politics in your art' are not being honest. If you look very carefully you will see that they are the same people who are quite happy with the situation as it is. And what they are saying is not don't introduce politics. What they are saying is don't upset the system. They are just as political as any of us. It's only that they are on the other side." –Chinua Achebe
And if you think that our president's words and actions have no effect on your life, please consider reading Martin Luther King Jr.'s Letter from a Birmingham Jail.
Finally, if you'd like to get involved, find a Power to the Polls event near you this weekend.