Moda Designer Blog Hop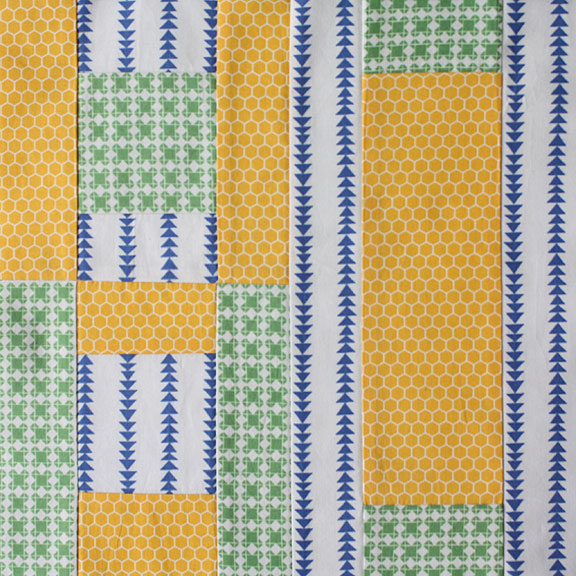 Today I'm excited to be part of the Moda Designer Blog Hop! If you read this blog regularly, you'll know that I have a fabric collection called Quilt Blocks that will be available in stores in April. If you've just found The Long Thread through the Moda blog hop, be sure to check out my book, 1, 2, 3 Sew.
For the blog hop, each participating Moda designer is sharing a quilt block and a recipe on their blog. My contribution is the quilt block above and a recipe for Honey Pound Cake. The 12″ block uses some of the fabrics that will be available in the spring, but I just had strike-offs to work with, so the colors may be slightly different. It's a straightforward block using three different fabrics, and would work well with solids or any pattern.
As a Southerner, I've always been a big fan of pound cake and its versatility. You can serve it with fruit, ice cream, whipped cream, or just on its own with coffee. Pound cake freezes well and makes a nice holiday gift. You could make this drawstring gift bag for a loaf of pound cake to make it extra special.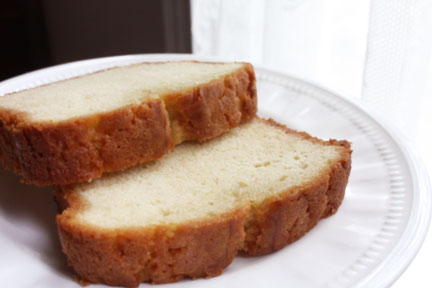 Just click on the image below to print the .pdf file with the recipe and block instructions. Happy Holidays!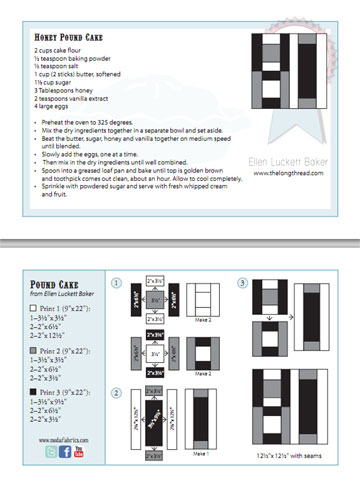 Follow along with the other stops on the Moda Designer Blog Hop. Here's the full tour schedule:
Monday, December 5th:
Tuesday, December 6th:
Wednesday, December 7th:
The Long Thread
Thursday, December 8th:
Friday, December 9th:
---
---