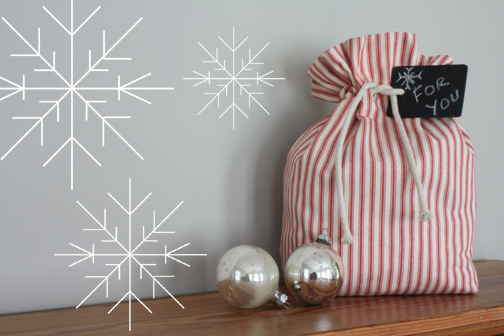 Happy Holidays?! I know it's early, but get started now and relax when the holidays are finally here.
Here's a quick drawstring bag and wooden chalkboard tag that you can reuse for a thrifty and eco-friendly holiday. I opted for simple, but you could change up the fabric, or use a satin ribbon or rick-rack trim for the drawstring. Two buttonholes on the front of the bag allow the string to hang in the front and the drawstring casing is created by simply sewing a channel in the outer and lining fabrics. These would be simple to make in many different sizes for all of your holiday gifts.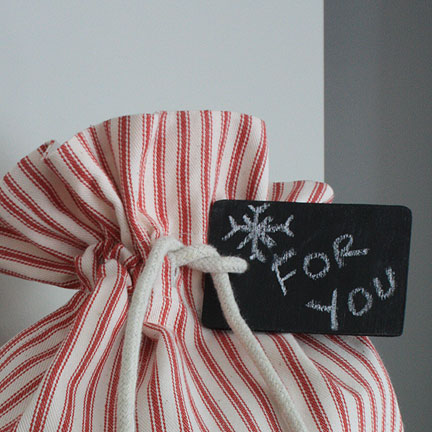 Click on the image below to print out the full instructions.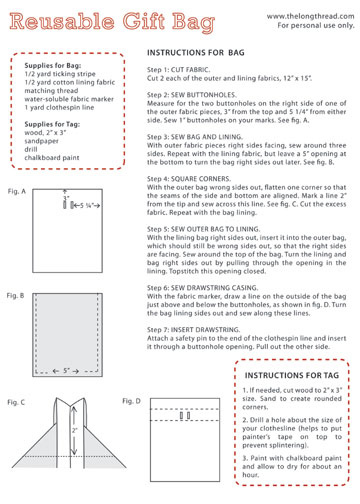 Please remember that all patterns posted here are for non-commercial use only. You may make these for yourself, but please do not sell items made from this pattern without contacting me for permission. And I'd love to see your photos, so be sure to share your holiday projects in the Flickr Make it Monday group. Thanks!