Action Pack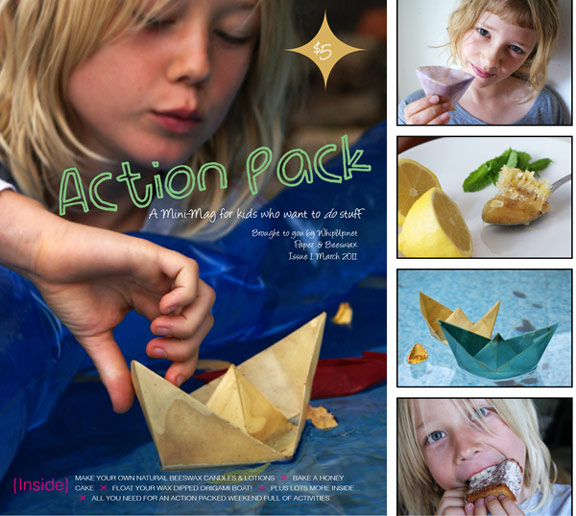 Check out this new mini-mag full of kids' crafts from author and blogger Kathreen Ricketson of Whip Up. Action Pack is an easy, downloadable magazine to keep the kids busy. With over 20 pages of craft projects, outdoor activities, cooking, drawing and more, this really is an action-packed gem.
The magazine features project ideas focused on paper and beeswax. The kids can make waterproof origami boats, beeswax candles and lip balm with printable labels, plus learn to draw bees and bake a cake. What I like most about this mini-mag is the learning aspect of it. With science experiments, fun facts and creativity, the kids can stay busy while learning something new in a hands-on way. As Kathreen says:
We see kids as competent, creative and capable people. We believe that our kids are resourceful and clever and we try to enable them to develop their independence and creative minds within a secure and nurturing environment.
We see learning opportunities everywhere. Learning should and can be fun. But we also know that parents are busy and cannot realistically be spending all weekend 'playing' with their kids. We want kids to get off the couch, away from the computer and learn the value and fun in making and doing stuff.
Thanks to Kathreen for providing me with a copy of the magazine. I can't wait to try it out with the kids soon! You can download your copy here for $5.
---
---