Lunch Bag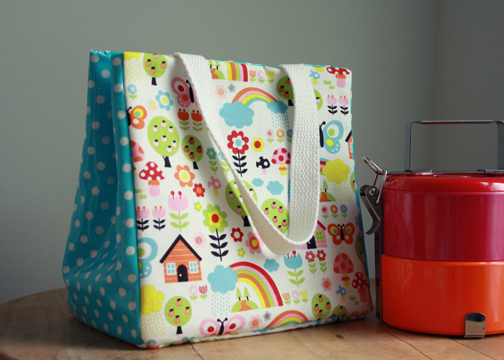 For some reason, I get obsessive over lunch containers. I love to look through the bento blogs and I'm always cutting the girls' sandwiches with cookie cutters. I never thought I'd be this kind of parent, but here I am. I want their lunch to look good. So after I ordered this adorable stacking container set purely based on its appearance, I realized that it wasn't insulated and wouldn't fit in any of our existing lunch bags. I considered making a simple insulated sleeve, but then just decided to make the bag to also hold a drink, silverware and a napkin.
This bag is fully lined, insulated and fastens with a magnetic snap at the top. See below for variations and a link to the pattern. It was simple to make and is extra roomy (9″  x 9″ and 5 1/2″ deep). I used vinyl-coated cotton, but acrylic-coated cotton may be a safer and more eco-friendly choice. If you have a teflon presser foot attachment, that's helpful but not required as you'll mostly be sewing the vinyl right sides together. I got the printed fabric from Fabricworm, but it looks like it's currently out of stock. It is perfect for my five-year-old and even has bits of glitter in the fabric.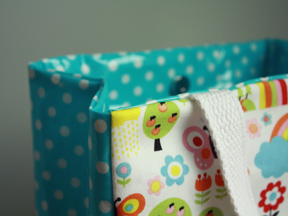 Variations on this pattern:
Make it your own size. Change the dimensions to suit your needs. This bag is large enough to work for an adult lunch bag as well. Simply choose your favorite fabrics or try a basic black.
Use all cotton. This is a simple tote bag pattern and can be made with all organic cotton for easy care in an eco-friendly fabric.
Add a flap. By simply inserting a lined flap in the final step, you can help keep food contained. You'll need to move the magnetic snap to the front of the bag and use one strap attached to the sides.
Make a tab. You could also make a simple tab with the magnetic closure attached to it.
Add a zipper. Someone mentioned in the comments that she might like to add a zipper, which is a great idea. But I'd suggest omitting the side pieces and squaring off the bottom corners of the bag (similar to the construction of this tote). This would make zipper installation much less complicated.
Add a pocket. You could easily add a pocket to the inside for an ice pack, an outer pocket for notes, or a side pocket for a drink. But this is a pretty roomy bag as it is.
Click on the image below to download the pattern .pdf file.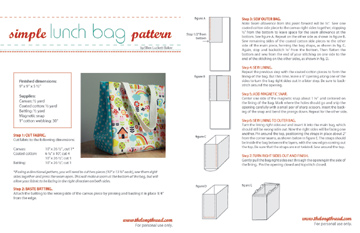 ---
---