Seashell Shadow Box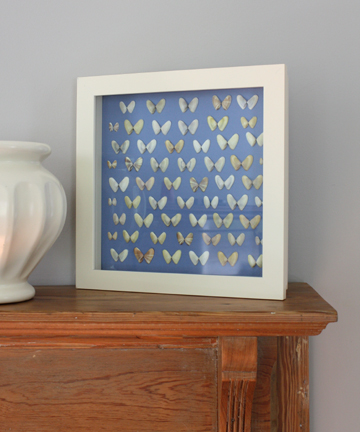 Like many of you, I've been thinking about the Gulf Coast lately. Growing up in Alabama, I spent many vacations there and for the past five years or so our family has made an annual visit to St. George Island, a pristine barrier island in the Apalachicola Bay area. This island is home to many amazing species of birds and wildlife and it's sad to think about these beautiful areas being damaged by the spill. I feel that we're all culpable to an extent due to our dependence on oil (I drove my car 8 miles already today), but I'm sickened by the oil industry's seeming lack of regard for our earth. Anyway, you can visit the National Audubon's Society website to help the birds affected by the oil spill.
I put together this seashell shadow box with some shells collected from the the beach last year. These are coquina shells that are shaped like little butterflies. I used a shadow box and hot glue to adhere them to the fabric, but I think a tacky glue or epoxy might be a better choice if adhering your shells to a hard surface.
A note about my shells: I found these on the beach after the animals had left them. It's important to note that you probably shouldn't ever buy shells because you can't be sure about how they were gathered.
---
---