Little Red Riding Hood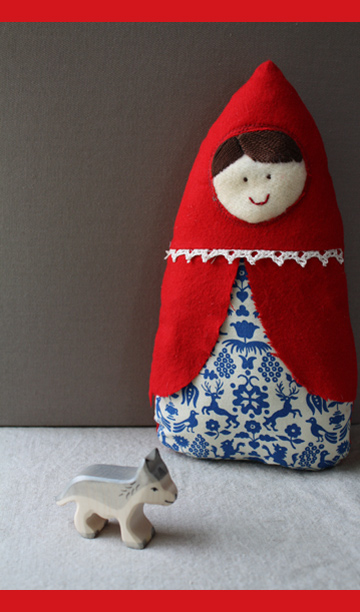 It's all about the fairy tales this week.  Today I made a simple Little Red Riding Hood stuffed doll.  Just a few pattern pieces cut from scraps plus a little embroidery and you're set.  I used red flannel for the cape, wool felt for the face and some vintage fabric for the dress.  Here are the instructions:
Supplies:
fabric scraps
embroidery thread and needle
stuffing
matching thread
small sewing needle
crochet trim (optional)
Embroider the face onto uncut felt or fabric of your choice according to size of the face on the template.  Then cut the face piece to the size of the outside template circle (or a little larger to give some extra sewing space).
Cut out the rest of your fabric according to the templates.
Fold the hood piece in half lengthwise and cut a half-circle at least 1/4″ smaller than your face piece.  Pin the face to the underside and topstitch around several times.
Sew the front pieces together: place the cape pieces aligned with the top of the dress front, then place the hood piece right sides together with hood pointed down and sew along the top, using a 1/4″ seam allowance followed by an overcasting stitch.  (If you are using the crochet trim, you'll want to insert it in this step.)
Beginning at the bottom, sew front piece to back, right sides together.  Be sure to leave a 1″-2″ opening at the bottom for stuffing.
Stuff and hand sew bottom closed.
If you make one of these, I'd love to see it!  Be sure to add your photo to the Make it Monday Flickr group.
---
---