50 Summer Crafts for Kids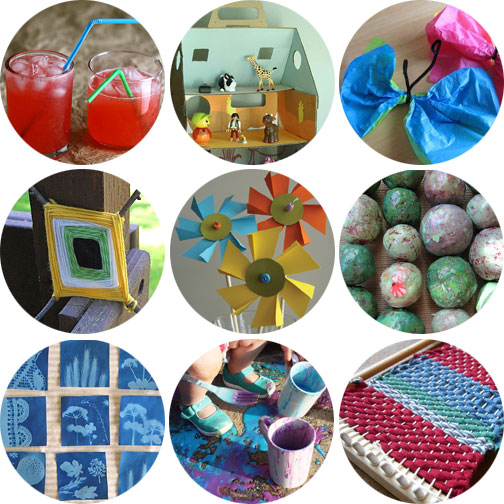 Summer is here!  Keep your kids busy with these crafts and ideas:
50 Ways to Get Children to Love Reading from Read-Aloud.
OUTDOOR PROJECTS & NATURE CRAFTS
Tie Dyed t-shirts from Kaboose.
Bubble Mixture from Suite 101.
Sunprint Tutorial from The Light Garden.*
Seashell Garden from Urban Organica.
Hammered Flower and Leaf Prints from Build/Make/Craft/Bake.
Painted Rock Crafts from Martha Stewart.
Milk Carton Bird Feeder from Kaboose.
Make a Kite from Storm the Castle.
Paper Bag Wind Sock from Canadian Living.
Paper Boat that Floats from wikiHow.
Mosaic Bird Bath from The Seattle Times.
Footprint Garden Stepping Stones from Make Baby Stuff.
Sidewalk Chalk from Alpha Mom.
Sidewalk Chalk Paint from ohdeedoh.*
Grass Head Monster from Activity Village.
Stone Dolls from Maya Made.
How to Play Hopscotch from Quiet Fish.
Build a Fairy House from Light-Beams Publishing.
ARTS & CRAFTS
Homemade Playdough from The Long Thread.
Flower Pinwheels from Alpha Mom.*
Recycled Crayons from Make and Takes.
Fairy Wings from Threadbanger (see our kid version here).
Kaleidoscopes from Se7en.
Pressed Flower Art from Mom in Madison.
God's Eyes summer camp yarn craft from Wise Craft.*
T-shirt weaving from Alpha Mom.*
Tissue Paper Butterflies from Marie for Design Mom.*
Make Your Own Fingerpaint from The Australian Women's Weekly.
Clothespin Dolls at Going Sew Crazy.
Vacation Memory Jars from Martha Stewart.
Cardboard Dollhouse from Esprit Cabane.*
Scratch Foam Block Printing from Glitter Goods.
Dr. Seuss inspired ooblek (like gooey liquid playdough) with Skip to my Lou.
Watercolor Resist Painting from Bookhou Craft Projects BloesemKids.
Recycled Newspaper Beads from A Storybook Life.*
Tin Can Stilts from Kaboose.
Rain Sticks from Creative Kids at Home.
Party Poppers from Little Birdie Secrets.
Tension Rod Puppet Theater from Sycamore Stirrings.
Mexican Metal Tooling from Restoration Place.
Colorful Bean Bag Balls from Family Fun.
Canvas Checkerboard from Martha Stewart.
Friendship Bracelets from wikiHow.
Fabric Scrap Braided Necklace from cakies.
SUMMER EATS
Make ice cream in a coffee can from Homemade Ice Cream Makers.
Watermelon Carving Ideas from the National Watermelon Promotion Board.
10 Frozen Treats for Summer Family Fun.
Strawberry Rhubarb Jam from Soule Mama.
Raspberry Lemonade from Joy the Baker.*
*pictured above.
---
---