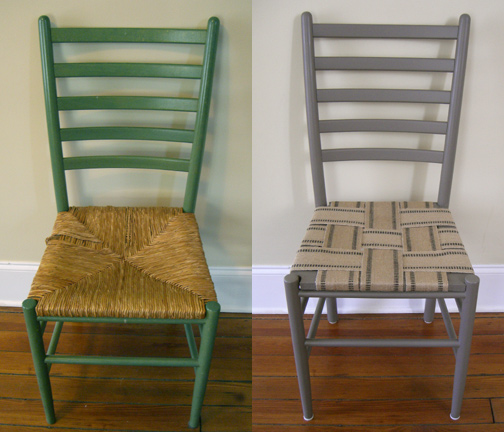 I have trouble with furniture makeovers.  Well, these chairs with the rush seats (before, pictured on the left) were giving me splinters.  So I decided to get some inexpensive jute webbing and cover the seat.  I also painted them a dark taupe color, but now I think that I need to paint the kitchen table too!
My mother warned me that the jute would stretch and begin to sag, and guess what?  She was right, as always.  It's not too bad, but we'll see how long these last.  I'm thinking of making some cushions with a thin wooden base to help keep them around a little longer.  But I still think it's an improvement!
You might be seeing the jute again since I have around 40 yards left over.  Jute purses, jute tote bags, jute walls, jute shirts….