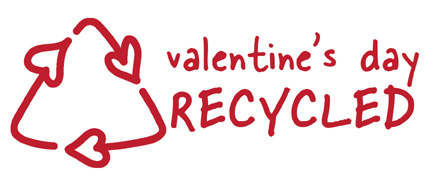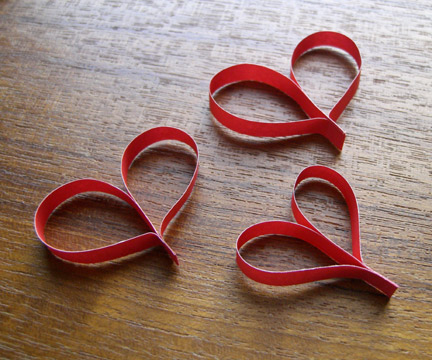 It's time to crack the craft whip on those kids.  Valentines for school are often a source of frustration for parents whether you are trying to get your kid to make them or simply write his name on each one. It's tedious.  Probably best to tackle them assembly line style and start way ahead of time.  Here are some ideas for recycled paper materials that can be used to make valentines:
maps
book pages
junk mail
holiday cards
paper bags
cereal boxes
sheet music
children's artwork (with permission)
office paper
gift wrap
brochures
invitations
magazines
The problem with recycled materials is that they usually have printing on both sides.  Once our cards are done, I will cut up some back sides of office paper and have the kids write their names and glue to the inside of each card.
Here are some simple ways that you could use your recycled materials: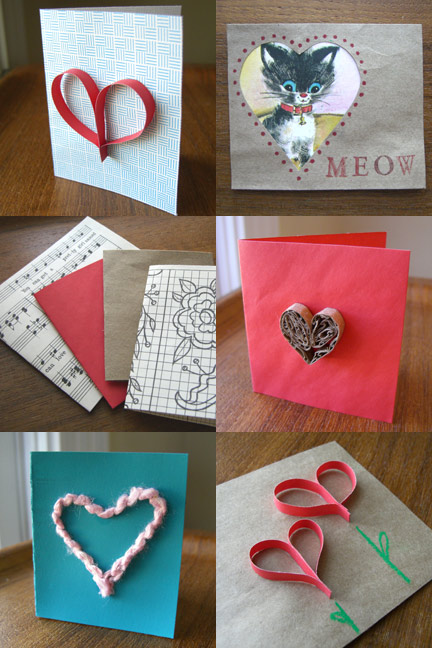 From top left:
Patterned side of a security envelope (idea from Design Sponge).
Paper bag with vintage children's book illustration.
Blank cards made from sheet music, red envelope, paper bag, and embroidery design book page.
Corrugated cardboard heart on recycled envelope.
Painted cereal box with yarn scrap.
Hearts on paper bag (see instructions below).
To make these little hearts, just cut some recycled paper in 1/4″ strips and follow the pictures below, adding a drop of glue at each step.  The corrugated hearts were also made with strips of corrugated cardboard rolled down from each end.