Top 100 Tutorials of 2008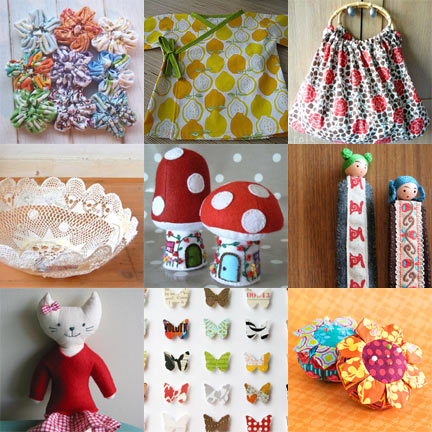 Happy New Year!  Here's a list of free tutorials and craft projects from 2008 to inspire you to create something in 2009.  Projects pictured above noted with asterisks in the list below.
I've sorted the tutorials by category to help make some sense of this list, but otherwise they are in no particular order.  I've tried to include all of my favorite blogs and tutorials from the past year, but I'm sure that I've made some omissions. There are many sewing tutorials, plus lots of other crafty projects. So go make something!
Thanks to Craft, Whip Up, Design Sponge, Sew Mama Sew and TipNut for pointing me to some of these great projects.
For Baby:
Baby Bib, Chickpea Sewing Studio
Fabric Beach Balls, The Purl Bee
Bias Tape Bib, The Purl Bee
Quick Cozy Blankie, The Purl Bee
Reversible Baby Shoes, Maked
For Kids:
Blind Contour Drawing, Camp Creek Blog
Shadow Puppets, Arounna Khounnaraj for Bloesem Kids
Fabric Collage, Arounna Khounnaraj for Bloesem Kids
Fabric Skittles, London Mummy
Fabric Dollhouse, UK Lass in US
Black Apple Doll, The Black Apple
Kids Art T-Shirt, A Bit of This and a Bit of That
Pencil Roll & Art Bag, Red Current for Whip Up
Lunch Bag, Skip to my Lou
Felt Doughnuts, Skip to my Lou
Matryoshka Doll Tooth Fairy Pillow, Goody-Goody
Bean Bag Chair, Michael Miller Fabrics
Molly Monkey, Mmmcrafts
Pillowcase Dress, Maya Made
Eve Softie Toy, Instructables
Child's Tent, Boutique Nutmeg Designs for Sew, Mama, Sew
Kimono Wrap*, Habitual
Growth Chart, Unraveled
Five Stones: Japanese Bean Bags, Honey & Daisy
Felted Sweater Animals, Martha Stewart
Calico Kitty*, Cherryskin
Paper Pinwheels, Ohdeedoh
Eraser Stamps, Geninne's Art Blog
Lazy Days Skirt, Oliver + S
Recycled Cardboard Dollhouse, Esprit Cabane
Snow Globe Soap, Secret Agent Josephine for Alpha Mom
I Spy Quilts, Make and Takes
For the Home:
Crochet Heart, Bella Dia
Fabric Gift Bags, Jo Calvert for Canadian Living
Fabric Vase Covers, How About Orange
Papier Mâché Bowls, Painted Fish Studio
Easy Roman Shades, A Merry Mishap
Fabric Bird, Spool Sewing
Fabric Calendar, I Heart Linen
Wine Tote, Kathryn Goodman for Sewing Republic
Mushroom, My Little Mochi
Pom Pom, Molly Chicken
Butterfly Collage*, Ali Edwards
Toadstool, Lucy Kate Crafts
Rice Pillow, Wise Craft
Napkin Set, Angharad
Quilted Patchwork Hot Pads, Coyote Craft for Sew Mama, Sew
Picnic Blanket with Rock Pockets, House on Hill Road for Sew, Mama, Sew
Phone Charging Basket, Oh, Fransson!
Matryoshka Note Paper & Labels, A Print a Day
Fortune Cookie, Lady Harvatine
Yoyo Coaster*, Sew Take a Hike
Pleasant Kitchen Dishtowels, Alicia Paulson
Oven Mitts, Soozs
Fabric Covered Boxes, Wink Designs
Plate Transfers, Skinny Laminx for Design Sponge
Doily Bowl*, Jane Schouten for Design Sponge
Felt Votive Holder, Kate Pruitt for Design Sponge
Felted Sweater Flowers, Betz White for Craft Magazine
Ribbon Bookmarks*, Wee Wonderfuls
Fabric Bucket, Pippijoe
Recycled Bath Mat, New York Etsy Street Team
Clothing & Accessories:
5-Minute Skirt, Angry Chicken
DIY ipod Cover, Jannypie
Tape Measure Pouch, Ric Rac
1-Hour Bag, Ric Rac
10-Minute Headband, Blue Bird Studio
Felted Wool Bag, JCasa Handmade
Reversible Shoulder Bag, Lula Louise
Japanese Knot Bag, Show Your Workings
Camera Case, Pink Penguin
Tea Towel Apron, My Spare Time
Doily Produce Bag, Scrumdillydilly
Piggy Bank Purse, Nosey Nest
Apron in an Hour, Stop Staring & Start Sewing
Bamboo Handle Purse*, Little Birdie Secrets
Monogrammed Handkerchiefs, Grosgrain
Pinch Frame Pouch, The Small Object
Japanese Coin Purse, The Purl Bee
Hobo Lunch Bag, Sewing Notions
The Gathering Apron, The Cottage at Frog Creek
For Sewing:
Wildflower Pincushion*, Anna Maria Horner for Better Homes and Gardens
Five Point Ribbon Flower, Pin Tangle
Ric Rac Dahlias, Made with Love by Hannah
Simple Machine Applique, Oh, Fransson! for Sew, Mama, Sew
Fabric Labels, Linda Permann for Craft Stylish
How to Felt Sweaters, Crafty Pod for Craft Stylish
Fabric Stamping, Lena Corwin for Design Sponge
Square Deal Pincushion, Heather Bailey
Toadstool Cottage & Mushroom House*,  The Little House by the Sea
For the Holidays:
Felt Snowflakes, The Purl Bee
Flower Garland, Zakka Life
Little House Ornaments, Pimp Stitch
Recycled Christmas Tree, Just Like Martha
Elfies Embroidery Pattern, Allsorts
Tomorrowland Trees, Wise Craft
Felted Candy Canes, Felt Café
Pomander, Betz White
Paperless Origami, Jeffery Rudell for Craft Stylish
Woodland Ornaments, Elsie Marley for Sew, Mama, Sew
*pictured above. Check out more Top 100 Tutorials here.
---
---