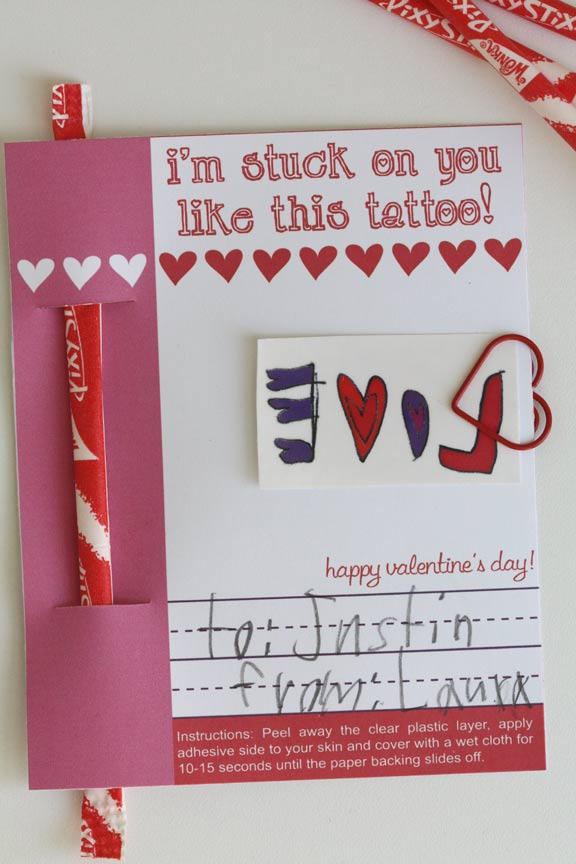 And here are the ones we made with my seven-year-old. She drew the designs for these tattoos and we printed them on tattoo paper.
I ordered this Silhouette tattoo paper after reading the reviews on amazon, but you don't need to have any special cutter to use this paper. Just an inkjet printer. I scanned my daughter's drawings, reversed them (important!) and printed them on the paper. Then you have to wait for it to dry (which took almost an hour) and then ever so carefully apply the adhesive paper on top, and finally rub any air bubbles out. I was nervous since I only ordered two sheets, but it turned out fine and we were able to get 40 tattoos on two sheets.

So I took her drawings and added some typed text as I wasn't sure how legible her writing would be on a small tattoo. Then of course she wanted to attach candy to the cards, and knowing how much parents love their kids to eat a teaspoon of colored sugar, I acquiesced and bought Pixy Stix, cut some slits in the card and my daughter attached one to each card. The heart paper clips came from Paper Source and were a bit of a splurge for me. As you can see below, the quality of the tattoo is just OK, but about what you normally see with temporary tattoos.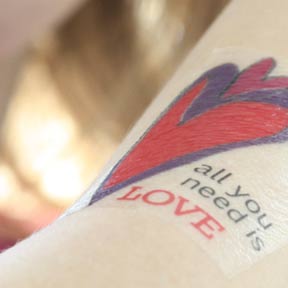 If you'd like the printable for this one, you can download the .pdf file here.