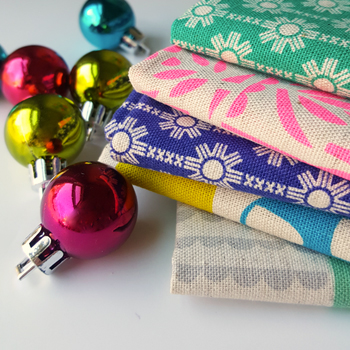 Dear Friends,
You might think that a craft blog is no place for politics, but I think that our country is no place for hate. As the holiday season approaches, I hope that we can come together to promote equality and stand up to injustice. I've been thinking about how we can use our skills as crafters to make a difference.
I'll be starting a weekly feature on my site called Make Good, which will highlight the ways that art and craft can effect positive change in the world. I'll feature nonprofit organizations that utilize crafts, provide tutorials so that you can donate handmade goods to those in need, discuss the power of creativity for personal fulfillment, and talk about craftivism. Please feel free to send suggestions.
My Etsy fabric shop is open again with 50% of the proceeds benefiting The Trevor Project, an organization that provides crisis intervention and suicide prevention to LGBTQ youth.
I may continue to feel hopeless for a while, but I refuse to be helpless.
-Ellen
"If you're able to volunteer, volunteer…if you're a musician, write that anthem. If you're a writer, write. Take what you're good at, and what you truly enjoy, and lend your services to the causes you care most about. 'Cause we can't, and we won't, and we don't stop." —Ad-Rock
---
December Tutorial: Fabric Wall Calendar
Say good riddance to 2016. Ready or not, 2017 is coming soon. You can order my tea towel calendar fabric from Spoonflower and make this fabric wall hanging. Simple instructions here.
---
Links:
The Pussyhat Project: Knit or wear a handmade hat to the Women's March on Washington. I'll be there! For the free tutorial and more information, check here.
I just bought this inspirational new book by Cleve Jones, the founder of the AIDS Memorial Quilt project: When We Rise: My Life in the Movement.
The Arrowmont School of Arts and Crafts was damaged in the Gatlinburg fires. Help our fellow crafters by donating to their Rebuild Fund.
Need a Creativity Boost? Try This New Multi-Pronged Approach, article in Psychology Today highlighting two new research studies.
---

Looking for holiday crafts to make with the kids? Check out these shrinky dink snowflake necklaces we made a few years ago. Happy Holidays!