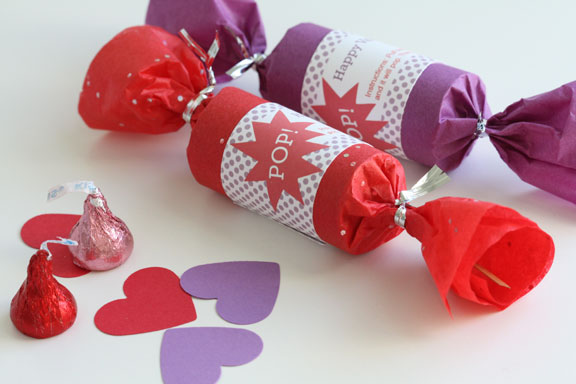 Today was Valentine Central at our house and the dining room table is now covered in bits of paper, ribbon, tissue paper and candy wrappers!
My nine-year-old and I got the idea a while back to make Valentine crackers (like Christmas crackers), and I found this tutorial over on Not Martha. Megan has also made them for Valentine's Day now, so you can read her great tutorial for those as well. I could only find the poppers on ebay, but you may be able to find some in one of the shops that Megan recommends. They took a while to get here since they came from overseas, but they were inexpensive and since we used gift wrap tubes (which were sturdier and looked better than the toilet paper tubes that we thought of using), the project itself was reasonable.
For my daughter's crackers, she chose to fill them with candy, cut out hearts, ribbon confetti and stickers. I cut the gift wrap tubes into 2 1/2″ segments using a craft knife and we used tissue paper for the wrapping, so it was easy for my daughter to roll them up on her own. And the twist ties that Megan used are genius and so much easier for little hands. I had these silver ones on hand, but looks like you can find some red and white striped ties here. Once I got out the supplies and made a sample to see how to put it all together, my daughter was able to make them on her own.
We'll see how the popping crackers go over with the teachers! I am planning to give them some warning. Here's a printable for the labels we used if you want to try these out in the future. This makes 1 1/2″ x 7″ labels, which work with gift wrap tubes, but if you are using toilet paper rolls, they will need to be a bit longer.