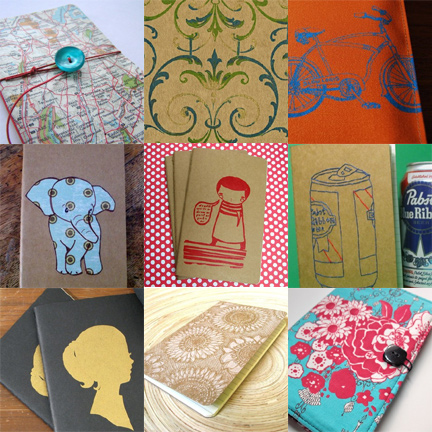 It's all about journals today.  If you're not familiar with moleskine notebooks, they are made in Italy and apparently pronounced mol-a-skeen'-a (though I fear sounding like a museum curator or Alex Trebek using this pronunciation).  But they are a good size and handy to have around.  Pictured above is a selection of some nice journals that I found on Etsy, mostly Moleskine cahiers, which can be found (unembellished) here.  And here's a pretty cool exhibit of some artists' moleskine notebooks.
New York notebook from bombus, $11.
Renaissance Moleskine Pocket Notebook, $10 from Juniper Berry Design.
Orange Bicycle Notebook with Cover from Randl + Slow Loris, $28.
Goliath Moleskine, $9.50 from LullaLoo.
Gocco Printed Notebook from danita.art, $16.
Embroidered PBR Journal, $12 from Nowvember.
Golden Girl, $7 from cutiepie company.
Sunflowers Gocco Printed Notebook from goshdarnknit, $12.
Large Journal Jacket, on sale! for $10 from Keyka Lou.