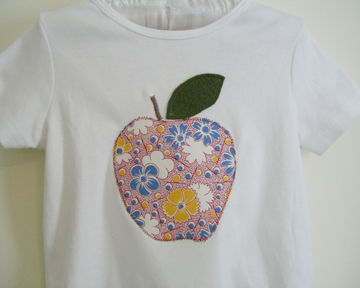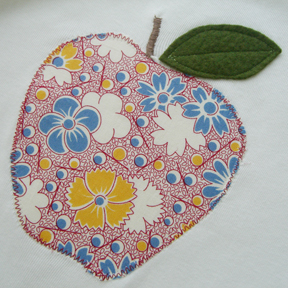 Many of you will have kids headed back to school soon (here in Georgia, school begins next week). So here's a quick appliqué project. I think it would be cute with a matching skirt or pants.
Supplies:
cotton tee
fabric scrap
lightweight interfacing (optional)
wool felt (approximately 4″ x 4″)
thread
Step #1: Wash and dry felt square. It will shrink considerably.
Step #2: Cut out fabric and interfacing according to back-to-school-tee-template. Iron on interfacing to the back of the apple shape.
Step #3: Pin apple to center of shirt and sew a zig-zag stitch around the edge.
Step #4: Cut out leaf shape from felt. Pin onto shirt and sew around edges, then through center.
Step #5: Sew a quick stem. Done!