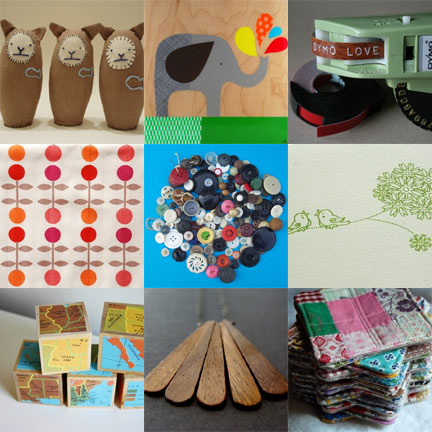 Cat Chubkin, $14 from Erin Ellis.
Elephant Splash, collage on maple, 10x10x3/4, $140 from Petit Collage.
Vintage Label Maker, $10 from Story of My Life Vintage.
Lollipop Flowers Japanese Fabric, $8.25 from good-ness.
Dirty Dusty Bag o' Buttons, $2.75 from BooDilly's.
Love Birds, set of three screen printed note cards, $6 from Fading Flowers.
Vintage Map Wooden Blocks, set of 5 for $12 from sparkle power.
Little Wings wooden necklace, $28 from Lauren Haupt.
Quilted Vintage Patchwork Coasters, $15 for a set of 4 from JCasa.