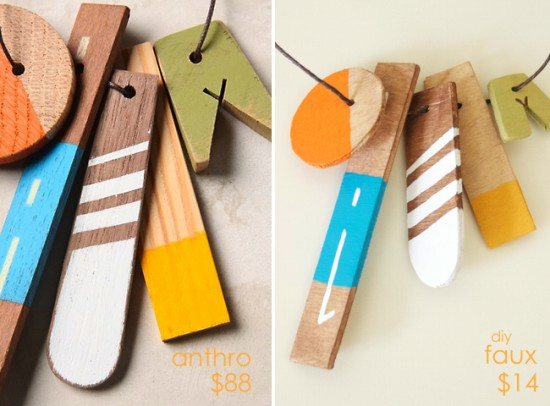 Update: This project was originally created by Brittni Mehlhoff of papernstitch. I asked her to contribute to this DIY series and she obliged with this wonderful tutorial. What she did not realize is that the original Anthropologie version of this necklace is actually a handmade piece created by Fort Standard. So while we hope that you will continue to draw inspiration from the world around you, we would discourage making an exact copy of an artist's work, even for personal use. Brittni has decided to remove the tutorial to further discourage this. Thanks for your understanding.
This series has apparently created a good deal of controversy, which you can read about here.
_______________________________________
Brittni Mehlhoff is the founder and curator of the art + handmade exhibition site, papernstitch, and is also the editor of a handmade blog by the same name. When not working on papernstitch, she is dreaming up fun little tutorials and crafting projects for her home. You can visit her free diy projects and tutorials section for more than sixty quick and easy projects. And while you are there, you can also sign up to receive free weekly diy projects straight to your inbox.