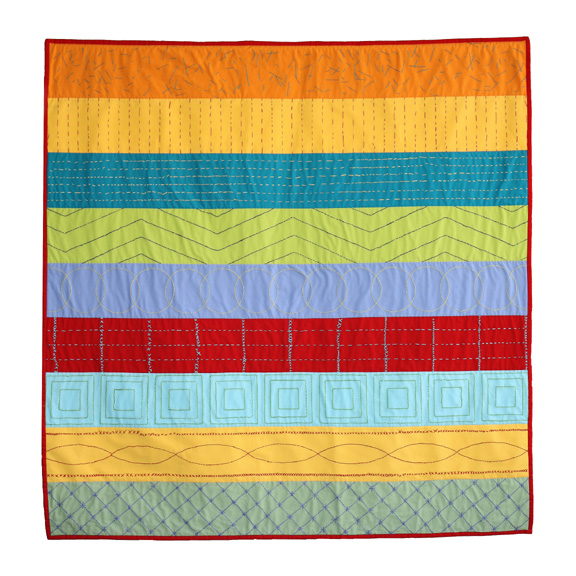 The auction quilt is finally finished! I'm excited about the result, but I think for this project the process of teaching kids to sew was more important than the end result. We've been working on this over the course of the past two months with more than 400 children ranging in ages from three to twelve.
As you can see, the stitch pattern starts off simple at the top with the three and four year-olds, then becomes increasingly more complex as you move further down the quilt, going in order and ending with sixth grade in the bottom strip. After the kids finished the embroidery, we then sewed the nine strips of fabric together and parent volunteers helped to hand quilt it. The quilt is approximately 5′ x 5′ and is really meant to be hung on the wall since it isn't very practical with all these stitches.
The children really seemed to enjoy the process and I think many became interested in sewing. Kids come to sewing with far less trepidation than adults who have never sewn before, but many were still intimidated. Once they picked up the needle, they all learned quickly and seemed to really enjoy it. The best reward for me was seeing the kids' enthusiasm for sewing; learning a new skill with such tangible results can be extremely satisfying for children. My idea for this quilt came from our experience with Montessori learning, where sewing is a routine part of the environment, so I knew the kids could do it. This whole experience reminded me of the need for these hands-on skills in our digital age — hopefully home ec will make a comeback.
I think that the combination of bright colors and beautifully imperfect stitching gives it a wonderful folk art feel. I hope someone will love this handmade style as much as I do and will want to buy it. There is a lot of love in this quilt since it took more than 800 hands working together to make it!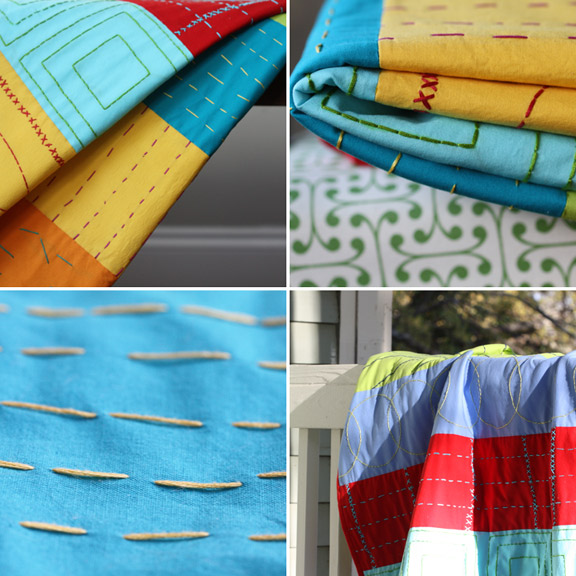 Special thanks to Whipstitch Fabrics for donating the fabric for this quilt. You can read more about the design and preparation for this quilt in my earlier posts here, here, and here.