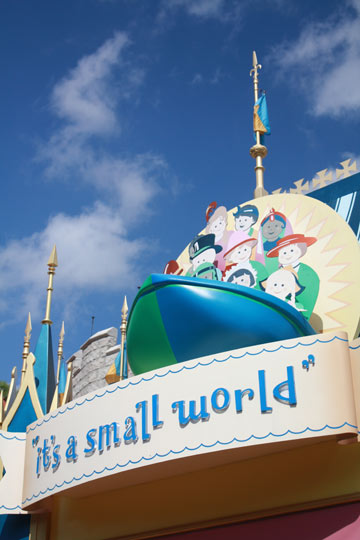 We just returned from a week-long trip to that enormous sociology experiment called Disney World. The cynic in me can't help but be disenchanted by the massive environmental impact and the huge crowds, but the kids loved it and I re-lived some nice childhood memories. All in all it really was a nice trip, but now I need a vacation from our vacation. It was exhausting.
I made the kids ride It's a Small World three times. And as someone commented on yesterday's post, I too realized that this ride may have informed much of my design aesthetic. Not something that you really think about when you're eight years old, but those early memories definitely make a difference. When I was a kid, we also vacationed in a small resort town with a kitschy Swiss theme, which furthered my love of tiny wooden toys, cuckoo clocks and clogs.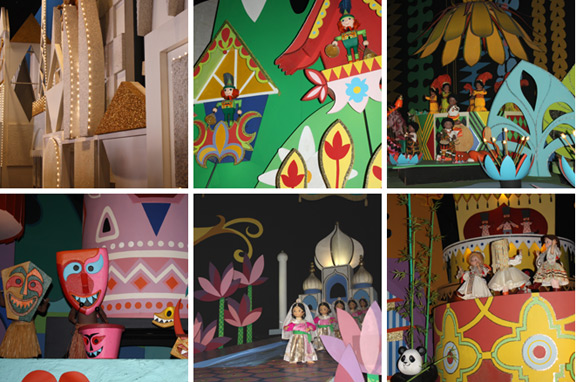 If you've never experienced this ride, you can see a video on YouTube here and read about it here. But of course there's nothing like the real thing. It's a magical experience that seems to hold up well after almost 50 years, captivating the full attention of both of my children. On this boat ride with sweet animatronic dolls wearing beautifully detailed costumes, happy animals and glittered scenery representing different parts of the world, there's something new to see each time you ride. The song It's a Small World was written exclusively for the ride. The scenery was designed by artist Mary Blair who helped define Disney's style in the '50s and '60s with her art direction on classic films such as Peter Pan and Cinderella. The white and gold facade (above, top left), with its layers cut out in geometric shapes, reminds me of the work of artist Louise Nevelson with added glitter and lights. Blair's modern style mixed with the international theme to create a look that may seem a bit kitschy now, but nevertheless stands the test of time.
And yes, I'm totally nostalgic about it. My photos are pretty terrible since they were taken in the dark with a flash (apologies to the people behind me), but you can see them all on flickr here. Do you have childhood memories of this ride?