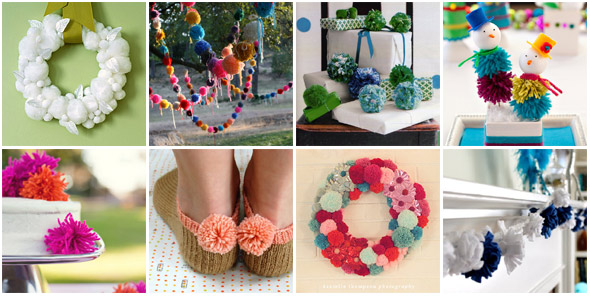 Whether you spell them pom-pom or pom-pon, you'll notice these little fur balls everywhere from HGTV to Anthropologie, and all the craft blogs in between. We've made a box of them, hoping to turn them into a wreath (maybe next year). But I thought I'd share a few project ideas.
Pictured above:
Snowball Wreath from Martha Stewart.
Garland from Honestly…WTF.
Gift Wrap Decor from Marie Claire Idées (via Black Eiffel).
Snow People from Hostess with the Mostess.
Wedding Decor from Project Wedding.
Pom-Pom Peds from The Purl Bee.
Vintage Inspired Wreath from Danielle Thompson.
Hanukkah Fleece Garland from Prudent Baby.
So, how do you make a pom-pom? It's easy.
One Crafty Mumma shares her tutorial for making pom-poms with cardboard circles.
You can also use these nifty plastic tools like you see in this tutorial from Country Living.
Or go really simple and use your fingers to wrap the yarn as shown in these instructions from Bella Dia.
And I linked to this wreath from Bleubird in a post last week. And a few more — look at this adorable hedgehog from Zakka Life, these cute little pumpkins from Liquid Paper, and this cute scarf with tutorial from Life Through the Lens.