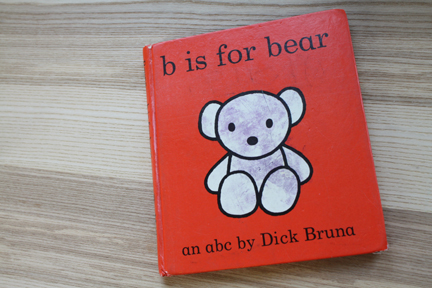 Apparently this week is Children's Book Week, so I thought I'd write about my all-time favorite children's book illustrator, Dick Bruna. Anyone studying illustration or graphic design should be familiar with his amazing work. The Dutch artist manages to take a drawing to its essence of line and color, creating brilliant work with zen-like simplicity. My kids love Miffy and I myself have fond memories of his work from my childhood.
This well-loved copy of b is for bear belonged to me and the images are forever etched into my brain. Can you see that I wrote my name on the cover and tried to color the bear purple? This book is sadly out of print now, but you can see the emphasis on simplicity here. Read this interesting article for more about his process. I especially love the way he talks about whittling down his drawings to their bare essence by removing details like Miffy's tears. His spartan lifestyle reflects his art. And who wouldn't want a husband that makes you a glass of fresh-squeezed orange juice and a drawing every morning?
Pictured below are the "L" and "O" pages from the book.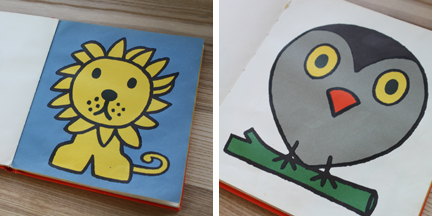 I also had a copy of Snuffy, in which Bruna manages to tell a heart-wrenching story of a lost child found by a puppy with minimal words and details. My original copy was apparently loved to death, but I was able to find a new one. My seven-year-old read this book to my younger daughter's class last week.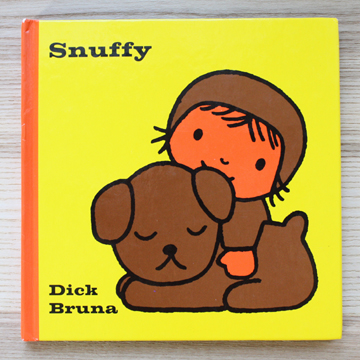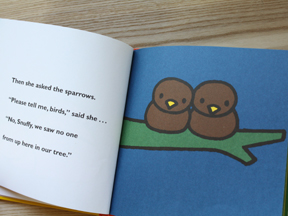 And then I bought the girls a vintage copy of Cinderella with sweet drawings of Cinderella in a simple yellow frock. And look at those stepsisters! I love the symmetry of that image. I think that all three of these books might be hard to find now, but there are plenty of Dick Bruna books that are available and the Miffy franchise remains popular. And take a look at the Miffy website for games and activities.