I recently got a few new sewing books that I thought I'd share.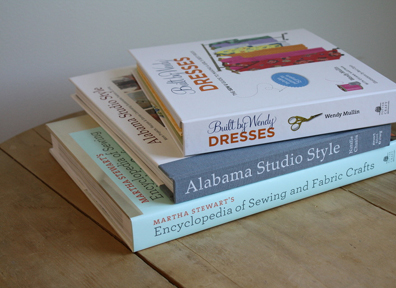 First up, Martha Stewart's Encyclopedia of Sewing and Fabric Crafts. This book is full of many techniques and projects, beautifully photographed and clearly illustrated. I think this one will become an essential reference book and I'd definitely recommend it. Among my favorite projects are the pinch-pleated pillows and dyed fabric ticking, shown below. But there are many, many more. The book has a beginning section about various techniques, then goes through projects A-Z. It includes a CD with printable templates.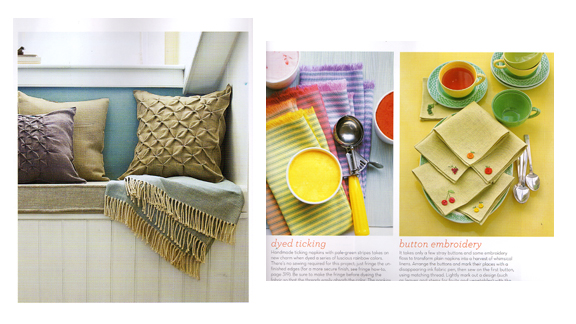 And STC Craft sent me a review copy of Alabama Studio Style by Natalie Chanin. This book is full of inspirational sewing projects and southern recipes. As you would expect, there are beautiful photographs of Chanin's detailed reverse appliqué work. And there are other projects for the home; I particularly like the woven farm chairs (stool shown below) and sewn furniture. Being from Alabama myself, I think the recipes are a good representation of traditional southern fare, but a bit too heavy. Overall I found this book to be more inspirational than instructional, but very pretty.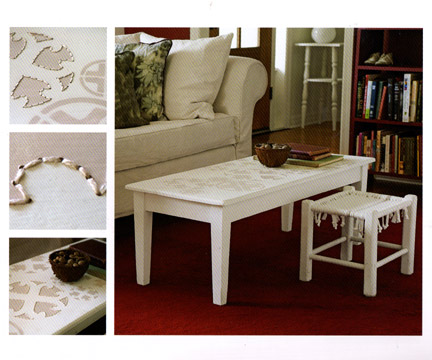 And then there's Built by Wendy Dresses by Wendy Mullin. This is a practical, get-your-hands-dirty sort of sewing book with 25 dress variations all based on three basic dress designs. She does a really good job of giving you the tools to customize the dresses and make them your own. I was really excited about making dresses for myself this summer, but I'm actually thinking that I'll use some of the pattern ideas to make them for my girls. It includes three full-size patterns. There's a very thorough review of this book from Amy Karol here.