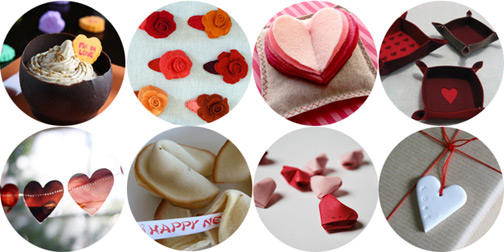 Chocolate Cups from Sprinkle Bakes.
Rose Barrettes from The Purl Bee.
Valentine's Day Sachet from CraftyPod.
Felt Bowl from The Crafts Dept. at Martha Stewart.
Recycled Heart Garland from Oh So Crafty.
Fortune Cookies for Valentine's Day & Chinese New Year from Cindy Hopper for Alpha Mom.
Folded Paper Hearts at Wild Olive.
Polymer Clay Hearts from ArtMind for Poppytalk.