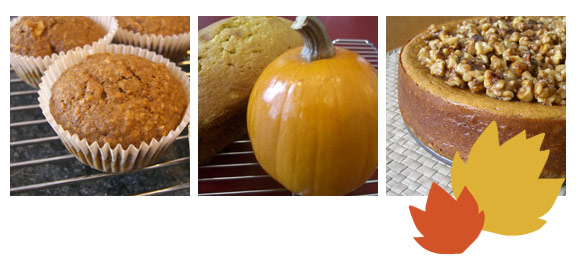 Break out the butter and make some sweets to celebrate fall.  Here are some recipes that I posted last year.  It seems that my interest in cooking is renewed as the seasons change.  And not to worry-we'll soon be wearing bulky sweaters to hide our love of fall comfort food!
Pumpkin Cheesecake (this one's my favorite)
Here are some other fall recipes:
Pasta with Butternut Squash, Sage and Pine Nuts from Apartment Therapy.
Spiced Pumpkin, Lentil and Goat Cheese Salad from Epicurious.
Cranberry and Pear Chutney from The Perfect Pantry.
Spicy Sweet Potato Fries from Kalyn's Kitchen.
Vegetarian Chili from Herbivoracious.
Fall Harvest Desserts from Martha Stewart.
Pumpkin Whoopie Pies with Cream Cheese Filling from Vegan YumYum.
And check out this post from Chow on Cooking with Fall Ingredients.