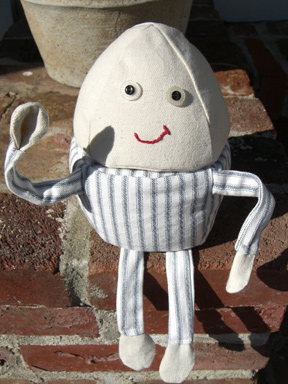 It's Make it Monday and our first ever Give-Away! Enter to win this Humpty Dumpty toy by simply leaving a comment on this post. Entries must be received by midnight Eastern time on Tuesday night, when the winning comment number will be chosen at random. I will e-mail the winner to get the shipping address, so no need to leave any personal information in your comment. I will try to mail this so that it arrives before the weekend if you live within the continental United States. I'm willing to ship overseas, but obviously that will take longer.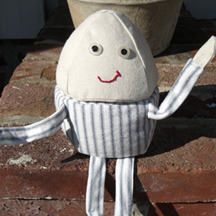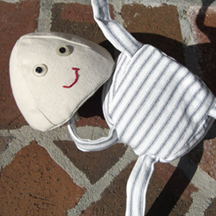 Humpty Dumpty sat on a wall. Humpty Dumpty had a great fall. This Humpty Dumpty breaks in half! But you can put him back together again. He is made in two pieces and attached with velcro. I stuffed the bottom with buckwheat hulls and the top with polyfill. He has adjustable arms thanks to a couple of pipe cleaners. Instructions for making him can be found here:
Humpty Dumpty Pattern Please note that this is a large file (189KB).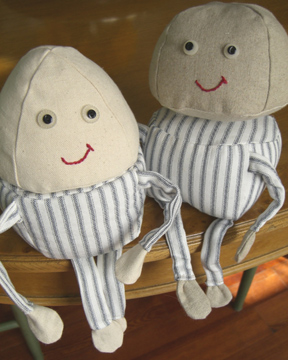 Just so I'm never accused of making things look easy, I wanted to show you that designing toys is a process. Here's Humpty with his cousin Frank. Frank lives in the Land of Misfit Toys and might prefer to be a hamburger bun. Not to worry, he's getting a lot of love from my kids. Obviously I made the shape a little wrong the first time and had some construction issues. I never get it right on the first try. This is NOT the toy you will win in this give-away.
Hurry and enter the contest! Humpty Dumpty needs a home.  If you make a Humpty Dumpty toy, please add a photo to the Make it Monday Flickr photo pool here.  I would love to see your creations!