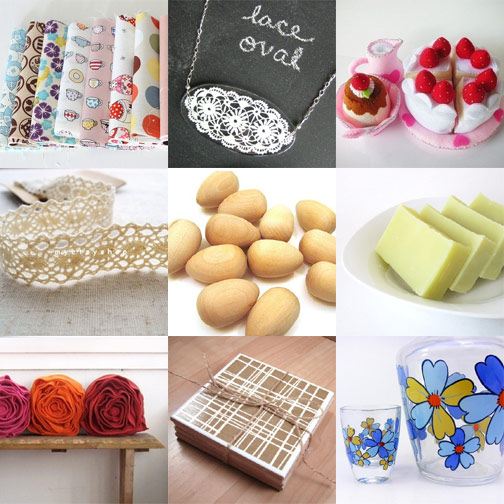 Japanese Cotton Fabric Scraps, 10 patterns $10 from cottonblue.
Lace Oval Necklace, $58 from Fox & Clover.
Tea Party Pattern PDF, $4.99 from July Hobby.
Crochet Lace, 1 yard for $3 from My Etsy Shop.
Wooden Eggs, 10 small eggs for $3.50 from Shauneil Supplies.
unDressed Mild & Moisturizing Soap, $5 from Dress Green.
Rose of Many Colors Pillow, $50 from pillowhappy.
Ceramic Coasters, set of 4 for $12 from LMNOProducts by Lauren McMahon.
Vintage Decanter Set with Six Glasses, $24 from Jolly Polly Pickins.