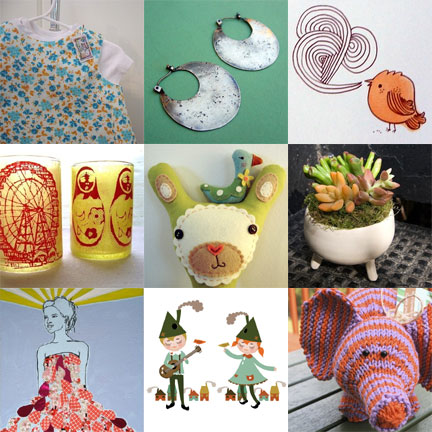 Here are a few local finds from the Indie Craft Experience Holiday Shopping Spectacular 2008, which was held last weekend here in Atlanta.
Baby Set made with vintage fabric, size 6-12 months, $15 from Starbugaloo.
Simple Crescent Hoops, $38 from Laurel Hill.
Little Bird illustration, 4.5″ x 6.5″, $8 from Christy Wooke.
Ferris Wheel and Russian Dolls Votive Duo, $18 from maryink.
Scout & Her Tiny Bluebird Softie, (sold), others available from Blueberry Bandit.
Butter Cream Cup, $35 from Greenware Design.
i see the one i love, 7.5″ x 10″ print, $15 from Jessica Gonacha.
Hans and Heike print, 8.5″ x 11″, $12 from Pancake Meow.
Eli the Elephant, $35 from Lil' Sprout Knits.