Thrifted Holiday Trees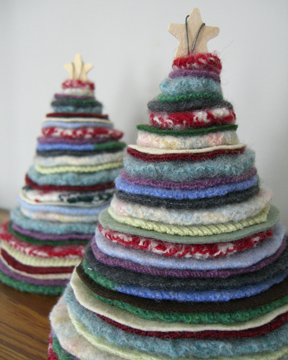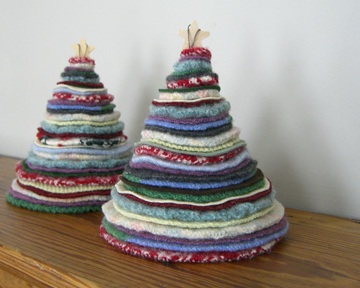 There are a million felted sweater projects out there, but I think it's a great idea to save money and recycle wool sweaters.  I found some more sweaters on a thrifting excursion the other day, so I made these plump holiday trees.  They are about 7″ tall and each has 32 felted sweater circles.
Supplies:
felted wool sweaters (washed and dried 100% wool sweaters)
scissors
pins
wire
wire cutters
bead or star for the tree top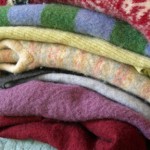 Instructions (for one tree):
Step 1: Print out the templates below and cut out paper circles.
Step 2: Pin paper circles to the sweaters and cut two of each size.  It helps to cut out a square from the sweater and work with that, rather than trying to cut from the whole sweater.
Step 3: Bend the wire at the bottom and begin slipping sweater circles onto the wire, beginning with the largest first.  It helps to find the center by folding the circle in half, then half again.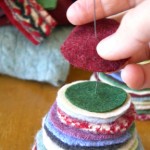 Step 4:  Wrap a bead or star at the top and bend the wire around.  Snip.
If you make one of these, I'd love to see a photo in the Make it Monday Flickr group.  Thanks!
---
---