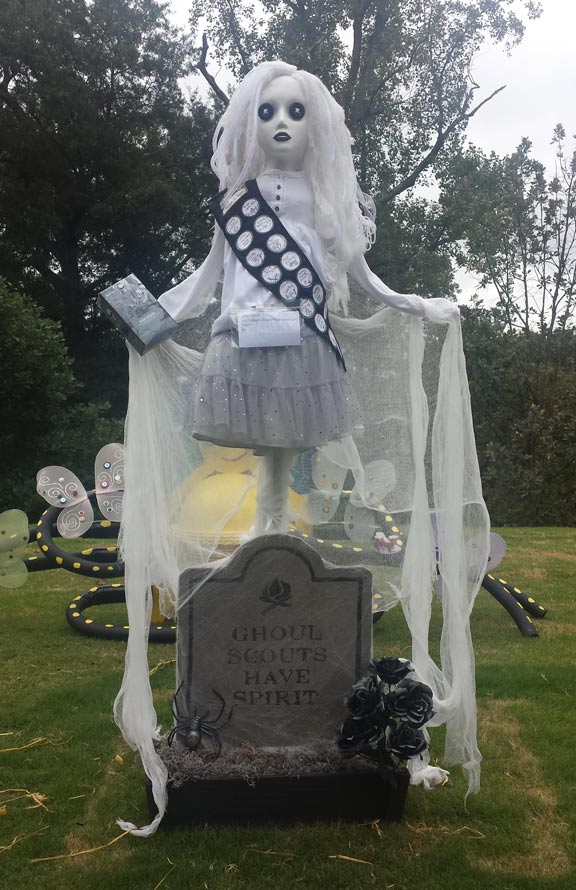 Creepy, isn't it? October always is always a busy month for us. With Quilt Market, a trip to Portland, and Halloween costumes and events, we're having an extra busy year.
My daughter's fourth grade girl scout troop made this scarecrow "Ghoul Scout" for the Atlanta Botanical Garden. She actually turned out a bit creepier than we intended, but the girls were enthusiastic and this was the right age for getting a bit scary. The photo above was taken right after we dropped her off and she still has a tag pinned on her front. We haven't been to the garden to see her in place yet, but she'll be on display throughout October. And it looks like she's won second place in the non-professional category, which should be exciting for our kids who worked so hard!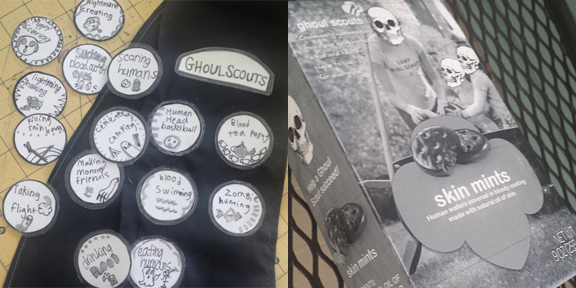 The girls made badges for the Ghoul Scout that you can see below, and I was impressed with their grotesque creativity! The badges include "puppy scaring", "human head basketball", "blood tea party", and one of my favorites — "killing rainbows." Pretty great. We even added a box of "Skin Mints." This was my 11-year-old's idea and she came up with the list of disgusting ingredients like flaking soda and hydrogenated toes. Gross, huh?